---
Posted
January 25th, 2020
Residential Chlorine Cartridge Filters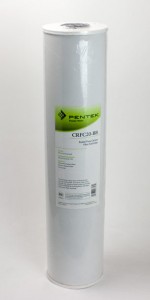 RFC20-BB
Cartridge-style whole house filters for city water have many advantages.  They install easily without need for a drain connection and electricity, they are compact and can be wall mounted, they require little upkeep,  and they are very effective.
Below are specially priced cartridge-style whole house  filters designed for city homes whose water supplier uses chlorine (rather than chloramine).  The chloramine version of the same filters are also available. The chlorine filters on this page  use the exceptional Pentek Radial Flow Carbon Filter.  This unique cartridge offers long life, excellent taste/odor performance, and almost no pressure loss.  The radial flow granular style of the RFC20BB restricts flow less than 1 psi at 4 gallons per minute, a fraction of the pressure drop from comparable carbon block filters.  The filter uses powdered carbon that is held in place by a uniquely designed cartridge that eliminates the need for the plastic binders used in carbon block filters.
These units cost a bit more than our standard carbon block whole house units, but their free-flowing performance makes them worth the added expense.
The package systems we've put together include a filter wrench, housings, extra O Rings,  brackets, and cartridges.  All housings have 1″ ports (3/4″ or 1.5″ available upon request).  All housings, both 20″ and 10″,  are tough, reliable Pentek "Big Blue."  All housing packages include mounting screws, heavy duty metal brackets, and one extra housing O Ring.
These systems are designed for parallel installation for larger homes to assure minimal pressure drop and optimal chenical/chlorine performance. See the reference pages listed below for installation pictures. Note that all carbon filters are 20″ and all sediment filters are 10″. The housing caps and brackets are identical for easy installation.
Whole house cartridge filters offer many advantages as compared with tank-style filters.  They install easily (no drain connection and no electricity needed). They are reliable, simple, easily serviced units with a very long lifespan. As compared with backwashing filters, these compact whole house carbon units save hundreds of gallons of water per year because no backwash is needed.
The RFC20 is a NSF-42 certified cartridge with a manufacturer's rating for 70,000 gallons of chlorine removal @ 4 gpm. PSI drop at 4 gpm is only 0.9 psi. (The cartridge will support a higher service flow. See sizing notes below.)
| | | |
| --- | --- | --- |
| Description | Application | Price (shipping to lower-48 addresses included) |
| System 1. One 4.5″ X 10″ 5 micron sediment filter plus one 4.5″ X 20″ high performance carbon filter. | Homes with 1 to 3 people. Flow rates to 5 gpm. | $303.00 |
| System 2. One 4.5″ X 10″ 5 micron sediment filter plus two 4.5″ X 20″ carbon filters installed in parallel. | Homes with up to 5 people. Flow rates to 10 gpm. | $507.00 |
| System 3. One 4.5″ X 10″ 5 micron sediment filter plus three 4.5″ X 20″ carbon filters installed in parallel. | Homes with up to 8 people. Flow rates to 15 gpm. | $714.00 |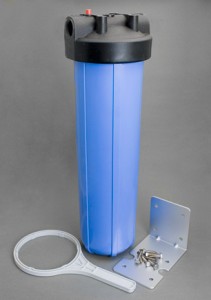 Basic 20″ Big Blue Housing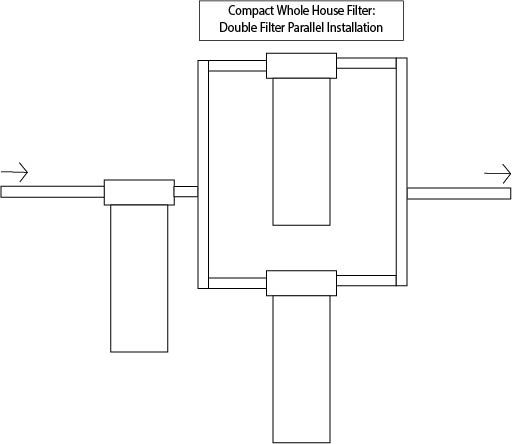 Multi-filter installation. Water passes through sediment filter on the left, then splits to pass through two carbon filters.  (The sediment filter is a 10″ cartridge and the two carbon filters are 20″.)
See also:
High Performance Cartridge-Style Chloramine Filters.  (This is the chloramine version of the products on this page. Chloramine reduction requires specialty carbon and in general needs a slower flow rate or greater filter capacity than chlorine reduction.)
More Multi-Filter Installation Pictures.
General Installation Instructions for Compact Whole House Filters.