Flushable Wipes Are Rated as the Number One Problem at NYC's Largest Wastewater Disposal Plant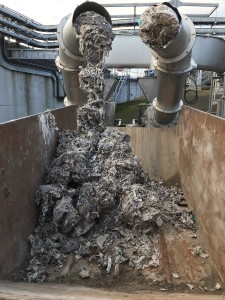 New York city's 14 wastewater treatment plants have to process 1.3 billion gallons of wastewater per day (twice that when it rains) gathered from 6,000 miles of pipes. The the largest of these, the Newtown Creek Plant, which covers about 50 acres, processes about 310 million gallons daily. The plant spends around $19 million per year just cleaning out clogs caused mainly by so-called "flushable"wipes.  When these wipes congeal with grease also dumped down drains, "fatbergs" result.
Efforts at legislation and judicial action to keep the wipes from being sent down the city's toilets have largely failed due to industry resistance.