Only Fleck 5600  on Our Website Now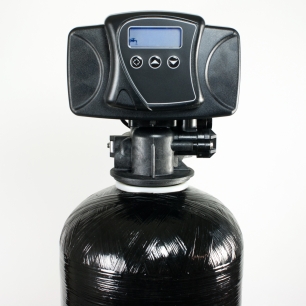 By far our most popular backwashing filters over the years have been those built with the reliable and very user friendly Fleck 5600 control. Now only 5600 filters are shown on our website. We made the change to 5600 only for water softeners a couple of years ago and it has worked out well.
The 5600 has size limitations. It works only on filters that need a backwash rate of 7 gallons per minute or less.  If a larger filter than those shown on our site is needed, we can usually supply it, but it can't be ordered from the shopping cart. We still stock and support the Fleck 2510 models that were recently taken down, but they are available by phone only so that we can assure that they are properly sized. We also sell much larger filters and softeners with Fleck and Nelsen C-Series (Clack) controls that are not shown on the website.
The very popular Fleck 5600 SXT (simple electronics) control, pictured above, is ideal for customer-maintained filters.  No special tools are needed for repairs and parts are easy to find.  We program the control before it is shipped, and changes in programming are easy. We still supply the time-clock version of the 5600 as well for those who prefer it.
Our Fleck 5600 backwashing  filters.