---
Posted
February 15th, 2015
Brazilians hoard water, prepare for possible drastic rationing
 by Caroline Stauffer
February 11, 2105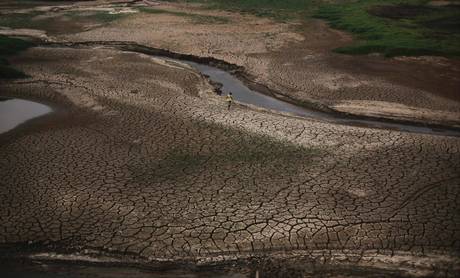 A man stands on the cracked ground of the Atibainha dam as it dries up due to a prolonged drought in Sao Paulo state in October, 2014.
Brazilians are hoarding water in their apartments, drilling homemade wells and taking other emergency measures to prepare for forced rationing that appears likely and could leave taps dry for up to five days a week because of a drought.
In São Paulo, the country's largest city with a metropolitan area of 20 million people, the main reservoir is at just 6 percent of capacity with the peak of the rainy season now past.
Other cities in Brazil's heavily populated southeast such as Rio de Janeiro face less dire shortages but could also see rationing.
Uncertainty over the drought and its consequences on jobs, public health and overall quality of life have further darkened Brazilians' mood at a time when the economy is struggling and President Dilma Rousseff's popularity is at an all-time low.
After January rains disappointed, and incentives to cut consumption fell short, São Paulo officials warned their next step could be to shut off customers' water supply for as many as five days a week – a measure that would likely last until the next rainy season starts in October, if not longer.
State officials say they have not yet decided whether or when to implement such rationing, in part because they are still hoping for heavy rains in February and March. Indeed, thunderstorms in recent days have caused lakes to rise a bit.
Still, independent projections suggest that São Paulo's main Cantareira reservoir could run out of water as soon as April without drastic cuts to consumption.
As such, the race is on to secure water while it lasts.
Large hospitals in São Paulo are installing in-house water treatment and recycling centers, among other measures, to make sure they can still carry out surgeries and other essential tasks if regular supply stops.
Meanwhile, companies are competing with each other to secure deliveries from large water tanker trucks, which have already become a common sight on São Paulo's gridlocked streets.
"It's like seeing 10 liters in your gas tank and knowing you won't make it to the next station," said Stefan Rohr, environmental director for industry group Ciesp in Campinas, a metropolitan area of more than 3 million people just north of São Paulo.
Many large water-intensive industries, including beverages, cellulose and steel, long ago made contingency plans to truck in water or use underground wells, which may stave off a full-fledged economic disaster.
But smaller ones, ranging from beauty salons and restaurants to car washes and light industry, may have to close or severely restrict activity.
"The economic impact will be job losses," Rohr said.
40 Million Could Be Affected
Sabesp, São Paulo's state-controlled water utility, told Reuters it did not yet know when or if rationing would begin. State Governor Geraldo Alckmin, who has also seen his popularity plummet due to the water crisis, declined requests for an interview.
A member of Rousseff's Cabinet told Reuters earlier this month on condition of anonymity that some degree of water rationing is expected in Brazil's three largest metropolitan areas – São Paulo, Rio de Janeiro and Belo Horizonte, with a combined population of 40 million people.
Even without rationing, health problems are being felt.
The official number of dengue fever cases in São Paulo tripled in January from the previous year to 120. Officials blamed the rise in part on residents collecting rainwater in open buckets, which attracts mosquitoes.
Many richer Brazilians have large storage tanks built into their apartment buildings or houses which, combined with more conscious water use, may allow them to survive severe rationing without ever seeing their taps go dry.
But most working-class families can't afford such measures. Some unions are planning demonstrations for next month to protest the government's handling of the crisis and demand the poor don't bear the brunt of it.
"We will not accept paying for the government's irresponsibility with our jobs," said Adi dos Santos Lima, president of the São Paulo state branch of Brazil's largest umbrella union, the CUT.
Brazil's economy is already expected to post zero growth this year. Worse yet, since Brazil depends on hydroelectric dams for about three quarters of its electricity, power shortages are also possible due to the drought, federal officials have said.
Combined water and electricity rationing could lop an additional 0.5 percent or more off of economic growth in 2015, according to Ilan Goldfajn, chief economist at Itaú Unibanco.
Inflation, which is running above 7 percent a year, could also rise as companies face increased costs.
São Paulo's shopping centers are standing by for potential rationing and have signed contracts to truck in water as soon as needed, said Glauco Humai, who heads Brazil's mall association Abrasce.
"Our plan is not to close the malls. Obviously this will raise costs," he said.
Some local chicken processors and pasta makers will also likely raise prices for those products as a result of trucking in water, a local food workers' union said.
 Even Carnival Cancelled
Sírio Libanês, one of São Paulo's premier private hospitals, said it cut reliance on Sabesp from 65 percent of its water needs to 25 percent by recycling and installing its own treatment system. Another large upscale hospital, Albert Einstein, said it had increased storage capacity to last four days and would rely on trucks for emergencies.
Many neighborhoods have already experienced daily water outages as Sabesp turns down pressure in pipes to save consumption. Some residents of the Brasilândia slum said this week they were often without water 13 hours a day.
At least two towns in Minas Gerais, a massive coffee producing state adjacent to São Paulo, even canceled Carnival celebrations this month because of the lack of water.
In an upper-class neighborhood of São Paulo, a grocery delivery boy reported bringing 170 two-liter bottles of water to a single apartment over the weekend.
Ronaldo Guellen, who runs a small construction store, recently ordered 70 200-liter tanks that can be used to store water. They sold out in three days, he said, and he hasn't been able to order any more because supplies are running short.
"People are really getting scared," Guellen said.
Source: Reuters.