Trump Reversal of Chlorpyrifos Ban Reversed by Court
A federal appeals court ruled August 9 that the Trump administration endangered public health by keeping a widely used pesticide on the market despite extensive scientific evidence that even tiny levels of exposure can harm babies' brains.
The 9th U.S. Circuit Court of Appeals in San Francisco ordered the Environmental Protection Agency to remove chlorpyrifos from sale in the United States within 60 days.
A coalition of farmworkers and environmental groups sued last year after then-EPA chief Scott Pruitt reversed an Obama-era effort to ban chlorpyrifos, which is widely sprayed on citrus fruit, apples and other crops. The attorneys general for several states joined the case against EPA, including California, New York and Massachusetts.
Chlorpyrifos was created by Dow Chemical Co. in the 1960s. It remains among the most widely used agricultural pesticides in the United States, with the chemical giant selling about 5 million pounds domestically each year.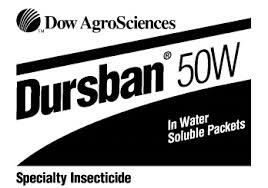 Chlorpyrifos is marketed under such brand names as Dursban and Lorsban
Chlorpyrifos belongs to a family of organophosphate pesticides that are chemically similar to a nerve gas developed by Nazi Germany before World War II. As a result of its wide use as a pesticide over the past four decades, traces of chlorpyrifos are commonly found in sources of drinking water. A 2012 study at the University of California at Berkeley found that 87 percent of umbilical-cord blood samples tested from newborn babies contained detectable levels of the pesticide.
In October 2015, the Obama administration proposed banning the pesticide's use on food. A risk assessment memo issued by nine EPA scientists concluded: "There is a breadth of information available on the potential adverse neurodevelopmental effects in infants and children as a result of prenatal exposure to chlorpyrifos."
Federal law requires EPA to ensure that pesticides used on food in the United States are safe for human consumption — especially children, who are typically far more sensitive to the negative effects of poisons.
Shortly after his appointment by President Donald Trump in 2017, Pruitt announced he was reversing the Obama administration effort to ban chlorpyrifos, adopting Dow's position that the science showing chlorpyrifos is harmful was inconclusive and flawed.
The Associated Press reported in June 2017 that Pruitt announced his agency's reversal on chlorpyrifos just 20 days after his official schedule showed a meeting with Dow CEO Andrew Liveris. At the time, Liveris headed a White House manufacturing working group, and his company had written a $1 million check to help underwrite Trump's inaugural festivities.
Pruitt resigned July 6 amid more than a dozen ethics investigations. 
Little information is available about point of use treatment of chlorpyrifos in water, but treatment with GAC has been used with some success in wastewater treatment. Chlorpyrifos has also been reduced with ozone and coagulation. Some states now have established standards for chlorpyrifos.  Florida, for example, has a legal maximum of only 21 parts per billion.
Reference: Huffington Post