Countertop Water Filters Are Better Than Ever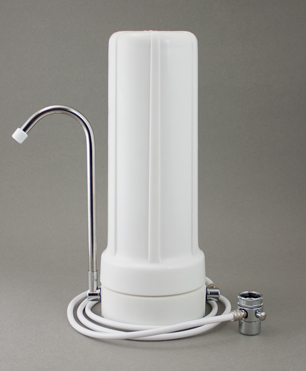 Model 77.  After 30 years, still "the world's greatest $77 water filter," and now better than ever.
Change in kitchen sinks and countertops have both helped and hurt countertop water filters.
Countertop filters get their water by attaching to the sink faucet. The rise in popularity of sink faucets with pull-out sprayers has reduced the use of countertop units because the deeply recessed aerator in the pull-out sprayers makes it impossible to attach the filter's diverter valve.
The rise in popularity of granite countertops, on the other hand, has added to the popularity of countertop filters because drilling a hole in the granite countertop for the faucet of an undersink filter or reverse osmosis unit can be difficult and expensive.
Though countertop filters have only a small share of the drinking water filter market,  countertop units are alive and well and probably here to stay. Their low cost, portability, ease of installation, and long-term reliability make them valuable and popular water treatment devices.
Standard-sized countertop filters, like the one pictured above, are better than ever because the standard 9.75″ X 2.5″ filter cartridges that fit them are so much better than they used to be. Modern cartridges not only have unbelievably long chlorine capacity but many can treat such difficult contaminants as PFAS,  VOCs,  lead, chloramine, and the full range of organic chemicals.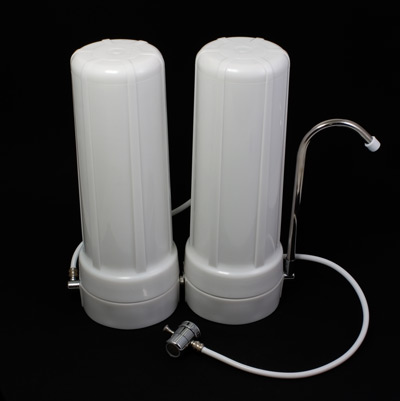 A double countertop has twice the capacity of a single unit. Using a double filter also allows treatment of difficult items like fluoride, arsenic, nitrates, and even bacteria while still  providing top-notch all around chemical performance and excellent taste and odor improvement.