Backwashing Filters with 4″ Top Holes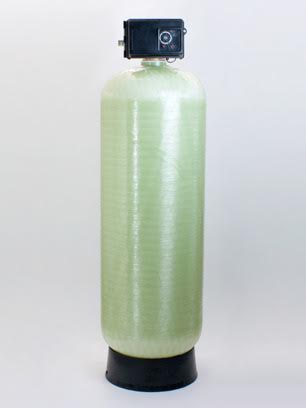 Fleck 2815 Filter, 21″ X 62″.  Will support a service flow of up to 50 gallons per minute.
Most residential backwashing filters have 2.5″ threaded top holes in the mineral tank. Conventional "small" filter valves like the Fleck 5600, Fleck 2510, and Fleck 5810 screw into 2.5″ top holes.  These control valves can be used on tanks up to 13″ in diameter.  Beginning with 14″ tanks, most have 4″ top holes and require the use of larger filter valves, like the Fleck 2750, 2815, or 3150. (Note: Fleck 2815 was formerly 2850. Fleck 2850 is no longer available.) Tanks with 4″ holes are available up to 24″ X 72″ in size. (The next larger size of tanks have a 6″ flange connection on top rather than a threaded hole.)
For want of better name, we call the filters made with the second size top hole 4″ filters. The filter above is from this group.
In general terms, filters of this size are for use in situations needing flow rates above 10 gallons per minute. Here is a chart that gives some typical uses with maximum effective service flow rates, in gallons per minute (GPM).
Tank Size in Inches

(Media Load with Most Media, in cubic feet)

Carbon Filter removing chlorine from city water

Katalox Light Filter removing iron from well water

Zeolite (Turbidex) filter removing sediment from well water.

14 X 65 (3.5)
 10
 11
 21
16 X 65 (4)
 14
 14
 25
18 X 65 (5)
 18
 18
 28
21 X 62 (7)
 24
 24
 32
24 X 72 (10)
 30
 32
 62
30 X 72 (15)
 50
 49
 73
36 X 72 (20)
 70
 70
 125
Be aware that there can be great discrepancies among media when it comes to service flow rates and backwash requirements.  For example, Turbidex will support a much higher service flow rate than Filter Ag.
Big Filter Prices
Prices of filters given below include control valve (mechanical timer), Structural Mineral Tank, Drain Line Flow Control, Riser with upper and lower baskets, media funnel, and gravel underbed. We pay shipping to lower-48 addresses. Usual lead time is about 4 days. These filters all have the standard electro-mechanical timer. Electronic SXT andNXT2 controls are available on some models at a slightly higher price.  Please inquire.  Important note: pricing on these units is included but is subject to change. Prices are not guaranteed.
Tank Size in Inches

(Media Load with Most Media, in cubic feet)

Fleck 2750, 1″ Control

Part Number and price

Fleck 2815, 1.5″ Control

Part Number and Price

Fleck 3150, 2.0″ Control

Part Number and Price

14 X 65 (3.5)
BW102 – $986
BW281 – $1575
16 X 65 (4)
BW105 – $1155
BW282 – $1675
18 X 65 (5)
BW103 – $1499
BW283 – $1890
21 X 62 (7)
BW104 – $1464
BW284 – $2090
24 X 72 (10)
BW285 – $2540
BW290 – $2880
30 X 72 (15)
BW291 – $3760 (6″ Flange)
36 X 72 (20)
BW292 – $4225 (6″ Flange)
Prices above are for the filter only. Gravel underbed is included, but not filter media.
Filters may be ordered with or without media. If media is purchased with the filter, the filter will be set up to match the media. If no media is ordered, tell us your intended use for the filter and we will equip the filter with an appropriate flow control device. There is no pre-shipment setup of control valves with the these filters, but we can suggest and help with setup after the purchase.
Filter Media, Price Per Cubic Foot.  (Media prices are often discounted when purchased with a filter.)
Granular Filter Carbon, for Chlorine, Chloramine, Chemicals, Taste & Odor, Color
Standard Bitumious: $125.
Coconut Shell: $139
Centaur Catalytic:$199
Aquasorb (Jacobi) Coconut Shell Catalytic: $174
Colorsorb Lignite: $138
Iron, Manganese, and Hydrogen Sulfide
Birm: $118
Katalox Light: $239
Filox: $364. (Call for sizing advice. Filox is often loaded lighter than other media.):
Sediment and Precipitated Iron:
Filter Ag: $72.
Zeolite (Turbidex) : $107.
Multi-Media (garnet, sand, anthracite) : Call for pricing.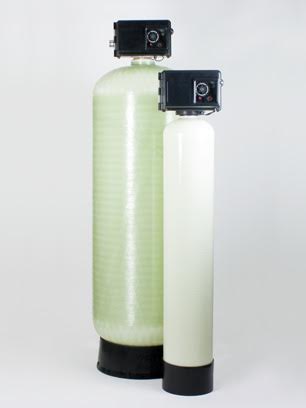 For size comparison, a 21″ X 62″ filter (10 cubic feet of media) beside a 10″ X 54″ filter (1.5 cubic feet of media).
These filters can be ordered by calling 940 382 3814.