Pure Water Products  Simple Cartridge-Style Iron Filter
An ideal solution for moderate iron, moderate water-use applications
Standard tank-style backwashing iron filters are normally used for iron removal from well water. They are very effective, but they are large and they require a drain connection, electricity, and a significant amount of water for regeneration. They eventually need media replacement and replacement or rebuilding of control heads. In other words, although they can solve the significant problems caused by iron and manganese in well water, they are fairly expensive to purchase and they can be an ongoing expense and a maintenance chore.
Our cartridge filter for iron is for small amounts of iron (generally less than 3 parts per million). It can help with manganese as well, but is not a good treatment for hydrogen sulfide odors. This easy-to-install system is recommended for applications where pH is 7.0 or higher and service flow rates are usually 4 or 5 gpm or less. Multiple units, of course, can be installed in parallel for higher service flow rates.
The cartridge used for this free-flowing filter is the advanced Pentek radial flow iron removal filter with iron oxide media. See this chart for approximate gallon capacities.
The housing is the old faithful 20″ Big Blue from Pentek with 1″ or 3/4″ ports. A heavy stainless mounting bracket, screws, and filter wrench are included.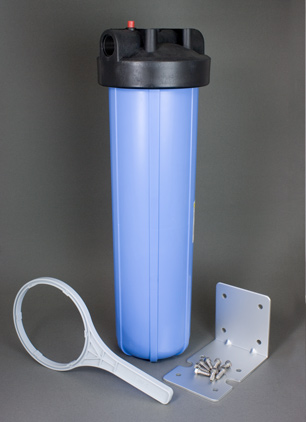 Basic unit comes with housing, bracket with screws, filter wrench and a Pentek iron removal cartridge.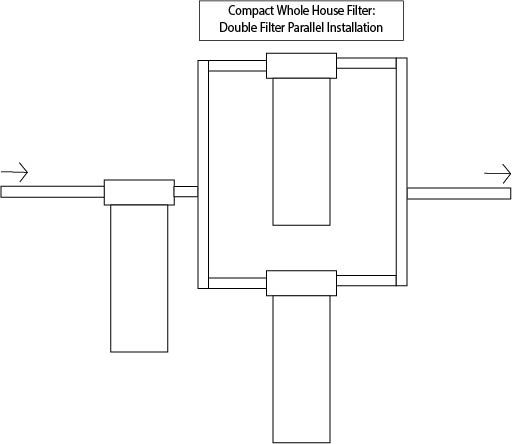 Suggested Applications
Multiple iron filters can be installed in parallel to accommodate homes that need higher flow rates. The illustration shows a sediment filter followed by two iron units in parallel. This filter array can comfortably treat iron at residential service flow rates of seven or eight gallons per minute. Moderate use homes with up to four people can use a single unit. With more than 4, a double unit as shown above is needed.

Please call for pricing.
Please call 888 382 3814 for more information or to order.