BIRTH CONTROL–THE
NATURAL WAY
How to Sow or Not to Sow–The Natural Way
by Barbara Feldman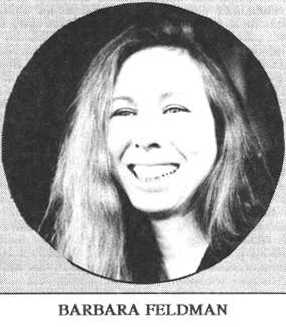 Today in an age of increasing health and environmental concerns, more people are deliberating about conceiving children, and some are deciding not to have children at all. Whether you plan to have children soon, plan to wait, or have decided not to add to the global city's already overcrowded sandboxes, you can take charge of your reproductive life in a way that enhances your health and the environment.
Picture the smallest grain of sand that you could possibly see in your garden. Now add to that picture something 2,000 times smaller. Amazingly, each of us began from the union of an egg (barely visible to the naked eye) and one sperm, 2,000 times smaller.
Our earliest ancestors lived within puzzles of myth and instinct combined, but had few real clues as to how pregnancy occurred. For ages it was unknown that males had any role. Throughout history humans used various ceremonies, rites and practices to deal with the awe, fear, and reverence they felt toward the mysteries of fertility. From today's educated perspective, some of these beliefs and practices may seem quite bizarre. Three hundred years ago, not long ago in human history, "ovists" argued with "spermists" as to whether the tiny model of the parent (we might say the blueprint or pinkprint) was contained in the egg or the sperm. In educational texts of that time, faces are actually drawn on sperm.
Some of today's misinformation may sound as amusing as the strange beliefs of the past, but unplanned pregnancies are of far more concern now than they were in tribal communities and in times of sparse human population.
Today, even though scientific knowledge of fertility is extensive, the average person is still not privy to the simple basics that can benefit all our lives. Just randomly ask where conception takes place, how long sperm live, or when in the cycle ovulation takes place, and you will discover a major lack of education even among those with letters after their names. In fact, even in these highly scientific, technological times, important life choices are based on beliefs about human reproduction invented out of distorted fragments of scientific facts pieced together by personal imaginations.
Iron and hydrogen sulfide (rotten egg odor) in water wells are easily defeated by plain old air. Aermax systems provide complete treatment without chemicals and without hassle.
They're inexpensive, easy to maintain, and environmentally friendly. 
Best of all, they're very effective.
AERMAX™ aeration systems fromPure Water Products.
Although reproductive knowledge has come a long way since the drawings of sperm with faces, today's "authorities" often distort and even block widespread dissemination of accurate information. You don't have to be a professional scientist to gain self-reliance and understanding with reference to your personal "packet of seeds." It's never too late to learn the simple, practical basics about our reproductive system. But, how much healthier society would be if we began teaching children early, and gradually added to their knowledge, as with other scientific information.
When it comes to Birth Control–The Natural Way there are a number of details to consider, yet the overall application, once learned, is easy.
Changes in a woman's fertility signs clearly delineate the fertile time each cycle in present time. This is NOT the unreliable rhythm method. A century of accumulated knowledge and scientific research plus over thirty years of practical application, stand behind this approach. By learning the fascinating facts of reproduction, you can replace the "hand-me-down" myths and take charge. Don't be surprised to discover that what you've considered to be facts turn out to be half-truths or fanciful explanations.
To begin this overview of fertility awareness, here are some basic facts. Girls are born with all their eggs. At puberty (today's average age is twelve) eggs begin ripening in response to a cyclic process. Within each cycle usually one egg is released. By menopause (average age 50-51) the number of eggs is substantially reduced; remaining eggs no longer ripen nor are released, and menstrual cycling ceases. Boys, however, begin to produce sperm at puberty and continue to do so for the rest of their lives.
After an egg is released from the ovary (ovulation), it is picked up by one of the fallopian tubes and if not fertilized within 24 hours begins to disintegrate. Sperm can survive in the female reproductive tract on the average two to three days (up to five days on the extreme) when fertile cervical mucus is present.
About 8-10 days of each cycle are fertile and can be determined by three primary signs: 1) Changes in the cervical secretion, which can easily be observed on toilet tissue or fingers. The purpose of this normal secretion is to protect and guide sperm toward the egg. 2) Change in the basal body temperature. 3) Changes in the cervix observed by touching the cervix. Observing these fertility signs takes only a few minutes a day.
I was more fortunate than most of my peers. My mother always comfortably and truthfully answered my questions about sex. So, at the age of four in the sandbox, I began my career in sex education by telling my playmates: "Baby sisters and brothers don't come from the stork–they come from your mommy's belly."
Today, through Family Awareness/Birth Control–the Natural Way workshops I share my mother's legacy with other women and their partners in an educational sandbox. As we sit together in a circle, students ventilate emotions and recite the litany of misleading information about birth control from medical doctors and popular media. Common statements from doctors are: It's unreliable. You can't know. You can get pregnant anytime. Here's your prescription for the Pill.
The fact is: When there's no egg, you can't get pregnant. When taught by a qualified teacher and the rules are followed, natural birth control can be just as effective as, if not more effective than, the Pill. Once the medical tyranny and misinformation are set aside, these simple biological facts can be used for self-empowerment. Please do not confuse this approach with the outdated, unreliable rhythm method of the 1930s. The Calendar Rhythm Method used the lengths of a woman's past cycles to predict the fertile days in each succeeding ng cycle. Birth Control–the Natural Way does not guess. The day-by-day changes in your fertility signs are a direct indication of hormonal changes in present time.
Many common misconceptions are replaced by fad. There is a common belief that the menstrual period is an infertile time. While this may be true for some, it may not be true for others, and it may vary from cycle to cycle. If ever there were shame in the garden, it is that so many women continue to believe mistakenly that their normal secretion is a "discharge" or an infection in need of treatment. Some doctors have actually prescribed vaginal suppositories rather than education. Like chemical merchants who sold our farmers on toxic fertilizers, many doctors do not respect natural cycles and want to fix what is not broken.
Don't be dissuaded by thoughts that you have to be "regular" to use Birth Control–the Natural Way:: This method is especially helpful to those women whose cycles vary significantly in length, who are just off the Pill, who are breastfeeding, weaning their children, or entering the time of pre-menopause. These women can also gain confidence by knowing when they are potentially fertile.
It's your choice when it comes to deciding what to do during the 8-10 fertile days each cycle. Most effective is to postpone intercourse during the fertile days. Some couples choose "outercourse." Others choose to use barrier methods during the fertile days. Realize, though, that the effectiveness statistics of barrier methods are inflated. Statistics are based on using a diaphragm or condom, for example, for each and every act of intercourse throughout the cycle, even though during two-thirds of most women's cycles they couldn't possibly conceive. And, as you may have discovered, condoms can break and diaphragms have been known to slip, even when instructions are followed perfectly.
Many enlightened folks are no longer turning themselves over to doctors, drugs, or devices. We've learned the hard way that synthetic hormones in the Pill, for example, affect virtually every organ of the body, deplete nutrients, can reduce the sex drive, and produce a long list of other side effects. All this is done to suppress the release of the egg and may be called "the no seed approach."
The IUD (inter-uterine device) changes the uterine environment by setting up a minor irritation or infection. Conception is still possible with an IUD in place, although the possibility of implantation on the irritated uterine lining is significantly reduced. This is the "unsuitable soil approach." Cases of serious pelvic inflammatory disease attributed to an IUD have resulted in infertility, hysterectomy, and death.
Methods using spermicides (diaphragm, foam, suppositories, and contraceptive sponge) make up the 'deadly pesticide approach." With this approach, invasive substances are used to kill microscopic male seeds.
Whether drug, device, or chemical is used, these high-tech inventions create a warlike attitude of varying degree toward a very intimate and natural aspect of our lives. When fertility awareness is applied to prevent pregnancy, neither partner needs to sacrifice health. Bio-gardeners are at peace making love without weaponry because they know when pregnancy can and cannot occur.
As Birth Control–the Natural Way becomes more widely known and practiced, fewer people will be singing the "Birth Control Blues." To promote an age of growing peace and environmental consciousness, choosing a birth control method that is personally peaceful and cooperative is another step toward making our global garden-city complex a better place to live.