Gazette Numerical Wizard Bea Sharper brings you up to date on the current water news in numbers.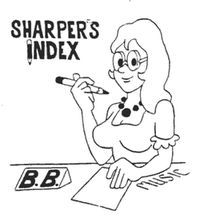 Mid-August, 2015
Percentage of trash found on Australian beaches that is plastic — 75%.
Highest level of microcystin recorded this summer in the Toledo Lake Erie area, in parts per billion – 2.5.
Gallons of contaminant-laden water dumped into the Animas River by the Gold King mine spill– 3,000,000.
Miles of Colorado's streams that are impaired by mining related impacts – 1645.
Rank of marijuana among the cash crops grown in California – #1.
Percentage of marijuana consumed in the US that is now grown in drought-ridden California—70%.
Estimated value of California's annual marijuana crop – $11 billion.
Value of California's second most valuable cash crop, milk and cheese – $6.9 billion.
Approximate number of separate water districts and agencies that regulate California's use of water—3,000.
Daily per person consumption of water in Sydney, Australia – 83 gallons.
In Irvine, California – 193 gallons.
Rate in inches per month at which land is sinking in the San Joaquin Valley due to overpumping of water wells — 2.
By CDC estimate, the number of people hospitalized each year in the U.S. with Legionnaires'-related ailments — 8,000 to 18,000.
Gallons-per-minute pemitted for shower heads under California's new Tier 1 regulation – 2.
Years in which Los Angeles and New York City respectively imposed the same 2 gpm limit on shower heads– 2009 and 2010.
Pure Water Gazette's proposed time limit on songs that can be sung in the shower –2 minutes, 15 seconds.