Daily News Update. Top current articles about the violence in Afghanistan, Palestine, and the planned invasion of Iraq.
Visit the Pure Water Gazette Front Page for the most recent war information.
Our Special Afghan War Picture Series: The Enemy.
Outstanding Archived Articles About the Recent Outburst of Violence
The Algebra of Infinite Justice by Arundhati Roy. A perceptive assessment of the American foreign policy from an Indian perspective. A very thought-provoking article by the celebrated contemporary novelist.
America's Terrorist Roots, by Geov Parrish. The Sept. 11 bombings were horrible, but what about the acts of terrorism of Bill Clinton and Henry Kissinger and other great Americans?
Backyard terrorism by George Monbiot. The US has been training terrorists at a camp in Georgia for years - and it's still at it.
Don't Ask for Evidence, Just Nuke Baghdad by Mark Steel. Will the British steel industry by accused of harboring terrorists?
The Gazette's Great War Article: What They Don't Say about War on the Ten O'Clock News, by Gene Franks. An interesting study of the Iron Mountain Report and its application to the Gulf War of the Bush years and the Gulf War we were almost able to start during the Clinton years. Can the world as we know it exist without war? The Iron Mountain Report said no.
How Can the U.S. Bomb This Tragic People? by Robert Fisk. Renowned reporter Robert Fisk speaks of his long experience in Afghanistan.
The Innocent Dead in a Coward's War by Seumas Milne. How can the US continue to ignore responsibility for the almost 4,000 civilians we have now killed in Afghanistan?
The Language of the Middle East by Charley Reese. "The Israelis never kill anybody but militants, so all of the more than 70 Palestinian children 15 and younger shot dead by Israeli soldiers are militants."
Lesson from an Old Woman by Hardly Waite. "Why do they hate us?" Here's one good reason you may not have thought of.
A Prayer for Water & Children, by David James Duncan. The heart-breaking account of how our government uses water as a weapon of war.
Pentagon Passes on Penitence by David Corn. Waging war on terrorism means never having to say you're sorry.
President George Bush's "war on terror" reached the desert village of Hajibirgit at midnight on 22 May.
On Terrorism by Bee. B. Sharper. Gazette columnist B. Bee Sharper's numerical logic may shock you.
The Terrorist Advantage, by Charley Reese. "Given the imperial ambitions and arrogant obtuseness of the Bush administration, you'd better get used to terrorism."
There Is Nothing Anti-American about Opposing the Drive to War by Mike Marquees. The title tells it all.
Thoughts in the Presence of Fear. by Wendell Berry. A thought-provoking essay on war by one of our greatest modern essayists.
War is Peace by Arundhati Roy. "People rarely win wars, governments rarely lose them. People get killed. Governments moult and regroup, hydra-headed. They first use flags to shrink-wrap peoples' minds and suffocate real thought, and then as ceremonial shrouds to cloak the mangled corpses of the willing dead." A modern war classic by one of the world's best contemporary writers.
We Are the War Criminals Now by Robert Fisk. "What on earth has gone wrong with our moral compass since 11 September?"
What is a Terrorist? by Jeff Cohen. Well. . .it depends on who's doing the defining.
When Will We Learn? by Harry Browne. Perceptive commentary on America by the 2000 Libertarian Party Presidential Candidate written in the aftermath of Sept. 11, 2001.
Related Articles and Comments About War
A. J. and Munro, by Gene Franks. Is the world being run by schoolyard bullies?
December 7, 1941: A Setup from the Beginning by Robert B. Stinnett.
George McGovern Was Right by Cal Thomas. Would an American president kill hundreds of thousands to gain political advantage? Does a chicken have wings?
i sing of olaf, by e.e.cummings. Not an article, but a very appropriate poem.
The War Prayer, by Mark Twain. An article so truthful that the great American author insisted that it not be published while he was alive.
The Pure Water Gazette Email Newsletter. Free, and commercial-free.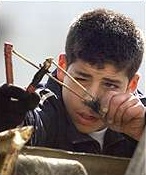 Palistinian Militant. See Charley Reese's Story about the Middle Eastern Doublespeak.