---
Posted
November 11th, 2013
The Pure Water Occasional for November 11, 2013
With sobering news about the mysterious piles of dead fish in a south China lake, a city's strategies for dealing with the the not-so-mysterious piles of dog manure that are polluting its waters, Pure Water Annie's moving explanation of how to measure the output of your well (if you have one), and the serious water pollution threat of antibacterial soaps, plus lots of World Water News.  And,  as always, there is much, much more.
Over 7 Tons of Dead Fish Found in South China Lake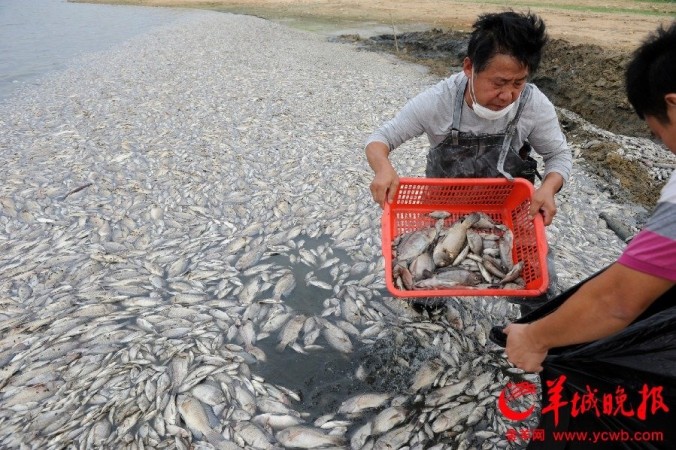 Thousands of fish have died in a lake in Guangdong Province since late October, probably due to pollution from sewage and industrial wastewater.
The die-off took place in Minghu City Park in the city of Shenzhen. A reporter with the Yangcheng Evening News visited the site, and could smell the stench from over 500 yards away, making him feel dizzy and vomit after spending some time there.
The lake was a dark yellow color with flies buzzing everywhere, according to Yangcheng Evening News. Some of the fish were already rotten and maggot-ridden; others were being eaten by cats and birds.
A sanitation worker told the reporter that it has not rained in Shenzhen recently to replenish the lake, and the only other water that enters it is polluted.
The man was part of a small group of workers removing dead fish from the vicinity of the outlet pipe, where the dirty water was draining into the lake.
"It's too smelly," one man said, adding that wearing a mask was not helping at all. "I couldn't even swallow my lunch, and just felt sick. There are at least 7.5 tons of dead fish here."
A local called Mr. Wu told the reporter that the water used to be clean, and many people used to visit there, and even catch fish.
"Since the 20th of last month, the water level dropped and the lake became very smelly," Mr. Wu said. "At first, there weren't that many dead fish, but after a few days, thousands floated to the top. They're trying to clear it up, but there are just too many."
There are several plastic factories in the area, and also some farms. The discharge water from these businesses flows into a spillway that drains into the lake, according to the reporter.
Further investigation revealed that about 800,000 tons of water were drained out of a nearby reservoir to make repairs near the base. The concurrent reduction in the lake water level may have contributed to the fish die-off.
Source:  Epoch Times.
Pure Water Gazette Fair Use Statement
Dunedin taking steps to get fecal pollution out of waterways
by Keyonna Summers
Editor's Note:  Water pollution by dogs gets worse all the time. Attempts to address this serious issue are often laced with cutesy puns that detract from the seriousness of the issue.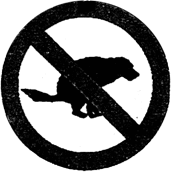 The Gazette has featured many anti-dog manure items,  including those of our own columnists Tiger Tom, who favors capital punishment for offenders, and B. Sharper, who has furnished numerical evidence aplenty to justify drastic action. Below are details of actions being taken at canine-friendly Dunedin, FL. — Hardly Waite.
DUNEDIN — From doggie dining and pet-friendly festivals to a famed pet memorial mural and even a contest naming a dog the honorary mayor, this city's embrace of its furry friends has earned it the nickname "Dogedin."
The animals' poo, however, is quickly becoming a contender for Public Enemy No. 1.
Looking to reduce high levels of fecal bacteria in city waterways, Dunedin has proposed strengthening an existing ordinance that already requires all pet owners to pick up their animals' waste by creating a poo section in the city code book and clarifying that violators could risk fines or jail.
Like any other violation of city code, the penalty is a fine of up to $500 and a possible 60-day jail term. However, Dunedin leaders say it is unlikely the city would take a violator to county court seeking the maximum penalty, though City Attorney Tom Trask said it is possible for code enforcement to step in and render a small judgment in extreme cases.
The city's transformation of "petiquette" into law is only the latest in a series of anti-pollution efforts suggested by the Florida Department of Environmental Protection, which identified Dunedin several years ago as one of many cities with elevated levels of water pollution.
Cedar and Curlew creeks, which both flow into St. Joseph Sound, were specifically mentioned as having fecal contamination.
Dunedin Public Works director Doug Hutchens said the city is already using smoke testing to detect leaks in its sewer system and has been "aggressive" in deploying pet waste disposal stations throughout the city.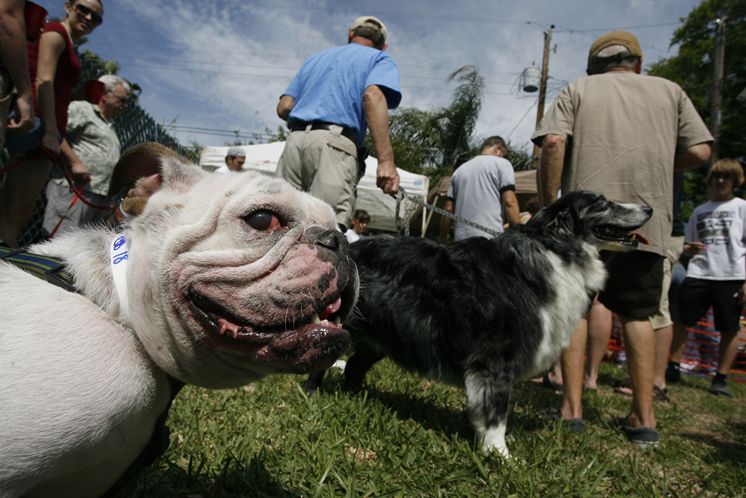 Spike,  in the foreground, is a prolific dropper but looks the other way at pick-up time.
The poo pickup law and an accompanying educational campaign slated for later this year are the next steps.
"We're just taking their advice on a low-cost way to improve the water quality. It's pretty well known that addressing the source of the problem is far cheaper than addressing the problem once it's already in the creek," Hutchens said. "Dealing with it upstream is far more cost effective than dealing with it downstream."
He added: "We not only want to require people to pick up after their pets but we want to make it convenient for them when they're in and around city parks."
City officials hope adopting the "basin management action plan" strategies — a blueprint for pollution reduction — recommended by DEP will bring Dunedin in compliance with the federal Clean Water Act and DEP's "total maximum daily load" standard for the state's most polluted waterways. That's a calculation of the maximum amount of a pollutant that a body of water can receive from various sources and still meet certain quality standards.
City commissioners are expected to consider the measure later this year along with others being examined by an Ordinance Review Committee, a citizen group appointed every few years to clean up city code language. The committee has already recommended the pet waste ordinance for approval.
Under another FDEP recommendation, the city is putting together a program to encourage all residents to abandon septic tanks in favor of connection to Dunedin's sewer system. The idea will be presented to commissioners at a future workshop.
Source: Tampa Bay Times.
 World Water News of the Week
The EPA has an important graphic for bug repellent labels to help consumers make informed repellent choices.  Public input is solicited.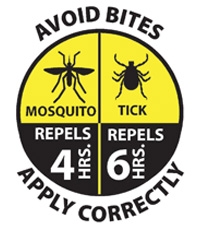 In drought, Abbott keeps lawn green by drilling. With what has been described as the worst drought in recorded history punishing parts of Texas, Attorney General Greg Abbott found a way to keep watering his yard without risking fines or incurring huge monthly bills: He drilled his own well — no more pesky city watering restrictions
Billion liters of coal-mine muck leaks into Athabasca River. Geotechnical engineers remained at the Obed Mountain coal mine Sunday trying to determine how one billion liters of murky water leaked from a containment pond into the Athabasca River.
Central Illinois officials: Aquifer fight isn't over. Elected officials in central Illinois are vowing to intensify efforts to prevent a landfill from burying toxic waste above a large aquifer, saying even a slim risk that groundwater could be polluted is too high.
Sea turtle deaths alarming Central America. Hundreds of sea turtles are washing up dead on the beaches of Central America and scientists don't know why. One hypothesis is that the killer is a potent neurotoxin that can be produced by algae during red tides, which are large accumulations of algae that turn sea water red or brown
Philippines: 'bodies in the streets', with many feared dead in typhoon Haiyan. At least 100 people have died in the Philippines from the impact of super typhoon Haiyan, a senior government official said on Saturday. Bodies were lying in the streets, according to an initial report from an aviation officer in the central city of Tacloban
Your pee could power future robots. There's a new use for artificial hearts, and it involves a more taboo bodily fluid than blood. A device that mimics the squeezing action of the human heart has been used to pump urine into a microbial fuel cell, which could power robots that convert the waste into electricity.
Report: Coal ash polluting groundwater at Tennessee Valley Authority sites. The Tennessee Valley Authority has polluted groundwater supplies around all of its coal-fired power plants – including ones near Gallatin and Clarksville, a national environmental group concluded.
Are you contaminated with toxic chemicals? Twenty-five Mainers about to find out. Twenty-five Mainers are preparing to take part in a two-month long bio-monitoring study of chemicals in their bodies. The focus in on phthalates – chemicals that are used to soften plastics
Here, drink a nice glass of sparkling clear wastewater. In California's Silicon Valley, there will soon be a new source of water for residents. The source of this water – while certainly high-tech — is raising some eyebrows. With freshwater becoming more scarce in many parts of the country, the public may have to overcome its aversion to water recycling.
Republic meets with city of Bernie, Missouri, over manganese levels. Bernie, Mo., has received a warning from the Department of Natural Resources and will start being assessed a fine for high levels of manganese in treated water released from the sewer treatment plant. A Republic Services official said the company wants to work with the city to remedy the problem.
Great Lakes senators unite to urge fast action in carp fight. Asian carp have breached yet another divide – the partisan wall crippling Washington. One day after news broke that Asian carp DNA had been detected for the first time in Wisconsin's Lake Michigan waters, all 16 U.S. senators from the Great Lakes sent word that they want fast action.
Philippine typhoon death toll feared in thousands. Philippine officials struggled to respond Sunday to the vast trail of devastation left by Typhoon Haiyan, which unleashed its fury on a central city, likely taking thousands of lives, causing widespread destruction and leaving disorder and looting in its wake..
Whittier sewer line on the slow road to bankruptcy. A rural sewer system in Jackson County is headed toward bankruptcy unless it can drum up 200 customers in the sparsely populated Whittier area. It's a tough sell though, witnessed by the paltry 40 customers along the sewer line now.
More grease traps test positive for PCBs at Lyman sewage treatment facility. Amid the cleanup of PCBs at Lyman's sewage treatment facility, three more grease traps have tested positive for the toxic chemical.
Climate changed. That's right — past tense. It's already happened. We must adapt. Here are the key questions.
Asian carp are a clear and present danger to Ohio's environment and economy. Last month, the United States Geological Survey released a report confirming four grass carp were born and raised in the Sandusky River. This is cause for alarm.
Over 7 tons of dead fish found in south China lake. Thousands of fish have died in a lake in Guangdong Province since late October, probably due to pollution from sewage and industrial wastewater. Epoch Times. 6 November 2013.
Exclusive: See meta impact of sea-level rise on South Florida. Global warming has raised global sea level about 8 inches since 1880 while rising seas dramatically increase the odds of damaging floods from storm surges. A Climate Central analysis found that the odds of worse floods occurring by 2030 are on track to double or more for widespread areas of the U.S.
Time running out for urban estuary in Puerto Rico. Volunteers wore surgical gloves, many afraid to touch the water, as they picked through tangles of mangrove along a lagoon at the edge of Puerto Rico's capital.
For the first time in program history, the Pacific Tigers men's water polo team is ranked No. 1 in the country, as the CWPA (Collegiate Water Polo Association) Poll was released Wednesday.
 How to Measure the Output of a Residential Well
by Pure Water Annie
Gazette Technical Wizard Pure Water Annie Explains the How and the Why of Measuring Well Output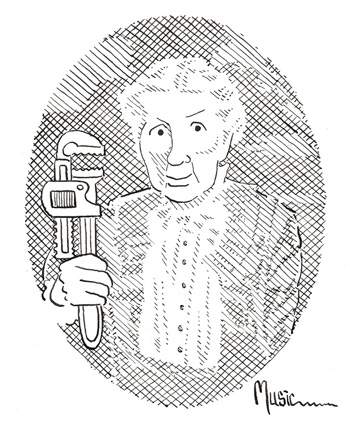 If you are thinking of installing a backwashing filter to treat well water issues like iron,  turbidity, or manganese,  the first thing you should consider is the output capacity of your well.  This is important because if you don't have enough water–enough gallons per minute (gpm) flow–the filter will eventually fail.  If, for example, the filter that you install requires 8 gallons per minute (gpm) to backwash the media bed and your well is capable of only 6 gpm, the filter may work well for a few weeks or even months, but it will eventually lose its service flow and/or its effectiveness.
When a backwashing filter regenerates, it lifts and tosses the media bed in the empty upper part of the tank (freeboard space). If you don't give the filter enough water to get sufficient lift in the bed, particles will remain after the backwash and eventually build up to clog the filter.  The filter has a flow control device installed by the manufacturer to prevent excess backwash flow, which would wash media out through the drain, but it is up to your well to supply a sufficient volume of water to keep the media clean.
 How Much Water Do You Need?
Every filter medium has backwash requirements that are determined mainly by its density (weight).  Other factors that determine the backwash flow requirement are the diameter of the filter tank and the temperature of the water.  You can find a chart that lists the most common filter media and a complete explanation on Pure Water Products' main website.
How to Measure the Output of Your Well
After you have determined the needed flow rate, here's how you find out if your well has the needed output:
1. Start by closing off the water going to the building(s) served by the well so that no water can run to the building.  Then, run water through an outdoor spigot until your well pump comes on,  turn your spigot off, and let the tank fill completely.
2. With the tank full, run water into a measured bucket so that you can get an exact number of gallons that the well tank puts out before the pump turns back on.  If you have a small bucket and have to turn the water off to refill it several times, it doesn't matter.  Just keep an accurate record of how many times you fill it.
3. When the pump comes on, immediately close your spigot and,  using a watch,  record the number of seconds it takes for the pump to turn off.
4. Now that you know the time between the pump's cut-on and cut-off and the gallons it takes to fill the tank you can determine the flow rate of the well in gallons per minute.  The formula for determining the flow rate is the number of  gallons drawn down that were measured above, divided by the seconds required for recovery, then multiplied by 60. (Gallons / Seconds) x 60 = Gallons per Minute (gpm) flow
For example, if 16 gallons are drawn down and it takes 90 seconds to build pressure back up, then: 16 divided by 90 = .177. Consequently, .177 x 60 = 10.6 gallons per minute flow rate.
Another example:  The refill time is 110 seconds and the amount drawn from the tank was 22 gallons.  22 divided by 110 = 0.2, which multiplied by 60 gives a flow rate of 12 gallons per minute.
After you've done this simple calculation,  you will no longer have to embarrass yourself by admitting that you don't know how many gallons per minute your well is capable of putting out.  It will improve your self esteem.
More information:
Chemical in antibacterial hand soaps poses health risks, scientists say
By Edward Ortiz
The onset of flu season brings with it a rise in the use of antibacterial hand soaps. Many such soaps contain triclosan – a chemical that studies have shown affects the function of heart muscle and has been implicated in altering thyroid function in lab animal studies.
Scientists studying the chemical feel it is not necessary in keeping hands free from bacteria.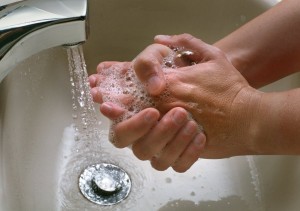 The chemical has been the focus of research at UC Davis for the last eight years. The most recent study was one of the first to find that mice exposed to high levels of the chemical showed impairment in the contraction and relaxation of heart and skeletal muscle.
Triclosan – introduced in 1969 as a pesticide – was first used as an antiseptic in 1972. Initially used in surgical scrub soap, it is now widely used in popular antibacterial soaps, such as Dial, and other consumer products, such as toothpaste and cosmetics.
A recent UC Davis study showed that triclosan impairs the electronic function of both cardiac and skeletal muscle of mice. That study was co-authored by Isaac Pessah, professor of molecular biosciences at UC Davis, and one of the lead researchers on the study.
"The impairments observed in muscle cell preparations were measured at triclosan levels that have been shown to occur in highly exposed individuals," said Pessah.
That finding, Pessah said, is important given the growing presence of triclosan in products and in the environment.
"The levels of triclosan found in biological tissues of humans and fish have been steadily rising. More than 70 percent of Americans have detectable levels," Pessah said. He said that almost half of those with detectable levels should be concerned by the outcome of his study because they likely have, or are at risk of developing, conditions that weaken their skeletal or cardiac muscle.
The federal Centers for Disease Control and Prevention – in a recent national report on human exposure to environmental chemicals – found a 50 percent increase in levels of triclosan across all demographics in the U.S. That study found that affluent individuals, and those over the age of 20, have the highest concentrations of triclosan.
"Triclosan is a clear-cut case of the potential hazards of using it in so many products," said Pessah. "Triclosan has been documented to promote bacterial resistance, a global problem that has reached critical proportions, sufficient for the CDC to issue bulletins about the hazards of microbial resistance."
Opting out of antibacterial soaps with triclosan may be a good idea, especially for individuals who have heart disease, said Bruce Hammock, director of the National Institute of Environmental Health Sciences Superfund program at UC Davis.
Hammock has been studying the chemical for the last six years. Triclosan first came to his attention when he realized that it was being found in high levels downstream from area sewage-treatment plants. "That was a surprise to me," said Hammock. "The chemical was found in the environment at higher levels than predicted. It's a high-volume chemical."
Those high rates means triclosan use needs to be reassessed, Hammock said.
"Soap itself is very toxic to bacteria, and the abrasion of washing your hands with water and soap really does get rid of viruses and bacteria," Hammock said. "So I don't understand why the average person needs an anti-microbial added to soap."
Brian Sansoni, a spokesman for the American Cleaning Institute, which represents the makers and suppliers of hygiene and cleaning products, disagrees with Hammock.
"Antibacterial soaps do provide a public health benefit, by reducing or eliminating pathogenic bacteria on the skin to a significantly greater degree than plain soap and water," Sansoni said. "The bacterial reduction from hand-washing is linked to reduced infection from pathogenic bacteria."
Triclosan is now finding its way into paper towels and many cosmetics. It's also used in Colgate's Total toothpaste, to fight gingivitis. Studies have shown the chemical particularly effective for this purpose.
"I think this is an example of small-volume use with a high benefit." said Hammock, who said he uses the Colgate product. "I think the benefit here outweighs the risk – until something else comes along that's better. I wish there were a warning label."
Triclosan is under review by the U.S. Food and Drug Administration. The FDA is in litigation with the Natural Resources Defense Council, which wants the agency to make a long-awaited ruling on triclosan.
The FDA has said that it would be issuing a final set of regulations concerning antibacterial hand soap products and triclosan by the end of this year. However, Mae Wu, lead attorney for NRDC's litigation with the FDA, is not holding her breath.
"The agency has been mulling a ruling on the products for the last 40 years," Wu said.
She believes the agency has dragged its feet because of industry pressure. "Triclosan is part of a huge industry where billions of dollars are now being spent on these antibacterial soap products," she said. "A lot of companies rely on these products for their profits."
The FDA chose not to comment for this article because of the lawsuit with the NRDC.
Wu said another problem would arise if the FDA rules against the use of triclosan.
"There is a problem with the chemicals these companies are using to replacing triclosan," she said.
Wu was referring to benzalkonium chloride. "That is another chemical the FDA is looking at that may also have some issues as far as human health effects," she said.
Meanwhile, evidence continues to mount on triclosan and its risks for humans and the environment.
A recent study made a link between low-dose exposure to triclosan and endocrine disruption in the North American bullfrog. Another study found that the presence of triclosan proved deadly to algae and bacteria in low-flow Mediterranean streams where chemicals don't get diluted readily. That study is especially important to the Central Valley, where many streams and creeks may have similar properties.
Evidence of the risks have not gone unnoticed. Earlier this year, the state of Minnesota banned the use of products with triclosan for use in its state buildings. Some companies – such as Unilever – have phased out the chemical's use in Europe. Others – like Procter and Gamble – have said they intend to phase out the chemical in their products by 2014.
Pure Water Gazette Fair Use Statement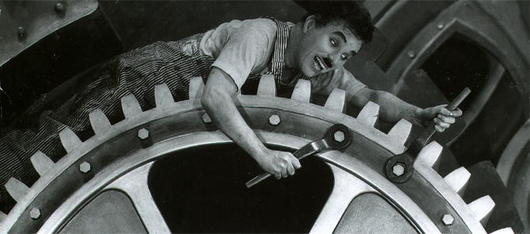 Please visit our RO Parts Page for tanks and accessories.
Thank you for reading.  Please come back next week.
Places to Visit on Our Websites in the meantime
Model 77: "The World's Greatest $77 Water Filter"
"Sprite Shower Filters: You'll Sing Better!"
An Alphabetical Index to Water Treatment Products
Our famous whole house Chloramine Catcher
Pure Water Occasional Archive: Sept. 2009-April 2013.
Write to the Gazette or the Occasional:   pwp@purewaterproducts.com
Please Visit
The Pure Water Gazette – now in an easier to navigate format.