The Pure Water Occasional for March 19, 2015
In this mid-March Occasional, you'll hear about the Occasional's new publication schedule (or lack thereof), the staggering reality of global water loss, the toll on women's health from dirty water and poor sanitation, and Texas communities without running water. Then there are the water woes of Lake Baikal and more water woes for Las Vegas. Hear how Americans stupidly waste one trillion gallons of water per year, what happens to the pollution when snow melts, how the ocean's weather cycles affect Texas, and how politics spoiled the chance for running water in Vinton, TX.  There's also news of the Great Barrier Reef, arsenic pollution in South Carolina, and the sad effects of war on the water of East Ukraine.  Learn how overpumping wells causes the ocean to rise, how storms improve air quality, and how road treatment adds sodium to drinking water. Understanding alkalinity, removing nitrates. More, from Newsweek, about fluoride and ADHD, the ominous statement: "California has one year of water left,"  and, as always, there is much, much more.
The Pure Water Occasional is a project of Pure Water Products and the Pure Water Gazette.
To read this issue on the Pure Water Gazette's website,  please go here.  (Recommended! When you read online you get the added advantage of the Gazette's sidebar feed of the very latest world water news.)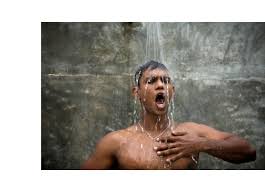 The Occasional Is Going Back to Being Occasional
by Gene Franks
As its name implies, the Pure Water Occasional was conceived as a now-and-then publication, issued at irregular intervals. It started that way, then for some years it was a monthly, then a bi-monthly, and for the last couple of years it has been a weekly.  Weekly is a hard schedule, since as you may have guessed, Pure Water Products, with its total of eight or nine employees, doesn't have a big research staff or a stable of writers to crank out newsletters.  In fact, I can truthfully say that while I'm not Charlie, je suis l'Occasionelle. 
I've decided that the Occasional can be more effective, more fun, and a lot less wear and tear on me, if it goes back to its original "occasional" schedule.
The plan is to mail new issues as they are ready rather than on the strict Monday night schedule we've been following. The plan it also to vary the format and subject matter more.
If you get impatient waiting for a new Occasional, there are about six years worth of old ones to keep you busy. The archive goes back to Sept. 2009 and continues to the present. Check the Occasional's website for the index of older issues. Newer issues are actually kept on the Pure Water Gazette website, but the Occasional link given above will find them as well.
Thanks for reading.  I really appreciate it.
What kills more women than AIDS and breast cancer? Dirty water.
By Maria Caspani
Diseases spread through dirty water and poor sanitation are the fifth biggest killer of women worldwide, causing more deaths than AIDS, diabetes or breast cancer, researchers say.
Nearly 800,000 women die every year because they lack access to safe toilets and clean water, said the development organization WaterAid, which analyzed data from the Seattle-based Institute of Health Metrics research center.
"This completely unacceptable situation affects women and girls' education, their health, their dignity and ultimately, in too many cases, results in an early and needless death," WaterAid CEO Barbara Frost said in a statement.
The only conditions more fatal for women than the lack of decent sanitation are heart disease, stroke, lower respiratory infections and chronic obstructive pulmonary disease, according to the report.
More than 1 billion women, or one in three women around the world, do not have access to a safe, private toilet, while 370 million – one in 10 – do not have access to clean water, according to WaterAid.
More than 2 billion people gained access to clean water between 1990 and 2012, but nearly 750 million remain still lack what the United Nations recognizes as a human right.
Dirty water and poor sanitation are at the root of problems such as maternal and child mortality, and sexual violence.
Many women in developing countries give birth at home without access to clean water, exposing themselves and their babies to infections.
Without safe toilets, women and girls have to venture outdoors to relieve themselves, often at night, putting them at risk of sexual harassment and assault.
Moreover, in many poor countries fetching water is considered a the responsibility of women and girls, who spend hours each day trekking to and from wells, keeping them from attending school or caring for their families.
Source: Reuters.
Pure Water Gazette Fair Use Statement
Water loss: seven things you need to know about an invisible global problem
by Sarah LaBecque
A staggering 46bn litres of drinking water are lost globally every day. What can consumers, business and governments do?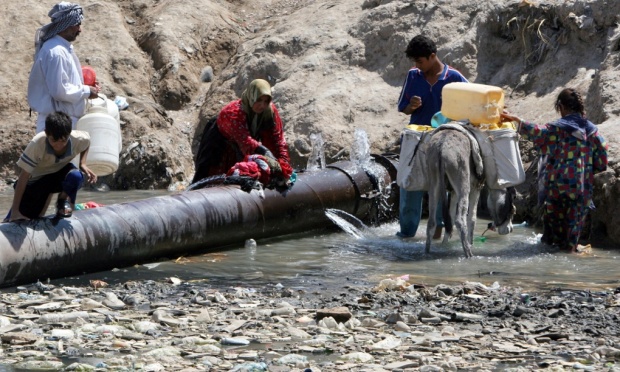 Iraqis fill drinking water and wash clothes at a broken water pipeline in a Shia district of Sadr City, Baghdad. 

While concerns over water conservation, access and hygiene feature high on the news agenda, the problem of water loss often gets overlooked. Yet this vital issue affects millions of lives. A recent live discussion hosted by Guardian Sustainable Business looked at the role business and government should play in addressing global water loss and where things are set to go next. Here's what you need to know.
What do we mean when we talk about water loss?
Water loss is often referred to as non-revenue water (NRW) – water that is produced in a network but never reaches the consumer. This might be due to aging networks which haven't been properly managed, metering inaccuracies, theft or unmetered authorised consumption, like water used from fire hydrants.
It's not a problem restricted only to the developing world either – Montreal, for example, loses 40% of the water it produces (pdf).
But Louise Whiting from WaterAid was keen to make sure the word "lost" is properly defined. "Very often", she said, "water is used but then returned to the system in virtually the same quantity".
So when we speak of water loss in an industrial sense, we're referring to that which is not returned to the system through natural processes like, for example through plant transpiration.
There isn't a one-size fits all reason which explains water loss
Plain, old-fashioned leaky pipes have much to answer for in explaining why NRW costs utilities about $14bn (£9bn) per year, but Marco Fantozzi, water loss regional representative for south east Europe for the International Water Association, says not all NRW is due to leakage.
Distribution systems in many parts of the world are not efficient enough, he says, and there is a lack of "state of the art technologies, not enough awareness of best practice methodologies and not enough training".
So addressing this global issue means looking at infrastructure, but also at utilities, and if they're embracing new technologies and investing in staff training.
Newer cities might have better rates of loss as well, like in the US where most distribution systems are younger than 100 years. These systems "may have less loss due to improved materials of construction and better construction techniques", said Dale Jacobson, governor of the World Water Council.
Consumers have a part to play in this issue
In the UK, the majority of consumers feel that their utility is not doing enough to reduce leakage – 70% in fact, according to Tony Smith, chief executive of the Consumer Council for Water. This perspective in turn affects consumers' motivation to conserve water themselves.
"Two thirds of water customers feel their efforts to save water make little difference when so much is being lost through leakage", offered Smith. At the end of the day, industrial water loss is a public policy issue which must be addressed by business and government, but consumers can put the pressure on. And they can do their part when it comes to conserving water at home and when on holiday.
Governments should be imposing targets on utilities to reduce losses
In the UK, OfWat, which is responsible for regulating water usage, has targets in place which water companies must meet as regards water loss reductions. Fantozzi mentioned that this was something European governments should be replicating. "UK utilities are in general more efficient than the average European utility," he said.
The very fact that water loss isn't a widely known or understood problem means policymakers and government need to integrate targets into country and international-level agreements, but political will sometimes lacks.
Technologies and solutions are available

First of all, you must address the more "low-hanging fruits" – active leakage control and pressure management, said Morten Riis, business development manager at Grundfos. Maintaining stable pressure in pipes within a distribution network "has proven to have a positive and immediate effect on reducing the water loss." And technologies like intelligent water pumps and distributed sensor systems for leak detection offer great opportunities for efficiency improvements.
Jacobson also highlighted water audit programs offered by the American Water Works Association (AWWA) and the International Water Association (IWA). "The IWA/AWWA Water Audit Method features sound, consistent definitions for the major forms of water consumption and water loss encountered in drinking water utilities. It also features a set of rational performance indicators that evaluate utilities on system-specific attributes such as the average pressure in the distribution system and total length of water mains."
The private sector will play an important role in reducing water loss in the developing world
Governments in the developing world don't necessarily have the financial resources to invest in network infrastructure – their efforts would more likely be centred around issues of hygiene or access. Indeed, Leong Ching, senior research fellow at the Institute of Water Policy, University of Singapore says the likelihood of developing countries being able to finance new and impoved infrastructure developments is slim. 7% of the world's population was served by private water companies in 2009, whereas that figure is projected as 23% for 2015, she says.
Jacob Tompkins, managing director at WaterWise said: "There is a big role for public-private sector collaboration, but … the key is appropriate regulation of this process – this is where NGO and community group involvement is essential."
Are corporates getting involved?
Selma Spaas, program leader of the International Water Leadership Programme at Nyenrode Business Universiteit brought up this important question. The burden of managing water loss is often naturally pinned to utilities and government, but corporations can get their feet wet too, or dry in this case. "I won't mention them by name," said Smith, but there are "'major retail household brands' operating in the UK and overseas" who have done a lot. In an effort to save money and as part of their corporate social responsibility strategy, Smith mentions that supermarkets in particular are communicating to their customers about water conservation.
Hannah Greig, private sector advisor at WaterAid was a bit more sceptical, however. "Corporates are recognising water is an increasing risk but action isn't yet following at the same pace – and even fewer corporates are including the impact on communities as part of their risk assessments," she said.
Considering the World Economic Forum ranked water crises as the top global risk in its 2015 Global Risks Report, business would be wise to engage in reducing water loss.
Source: The Guardian.
Pure Water Gazette Fair Use Statement
Water News for Early March, 2015
In Russia, a drying lake threatens an 'era of water wars.' In the past four months, Lake Baikal's water level has dropped so low that experts are calling it a crisis – one they warn could lead to conflicts in Russia over water.
Cane growers decreasing runoff to the Great Barrier Reef. Cane growers in Queensland are making progress improving the water quality running off their properties to the Great Barrier Reef, but say there are still challenges ahead.
Sin City's thirst is drying up the West. It's Mammon versus Mormon as Las Vegas and its glittering towers of glass and greed seek to quench their growing thirst by draining billions of gallons of water from under the feet of ranchers whose cattle help feed the church's poor.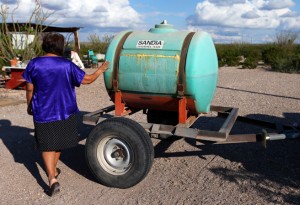 Flora Barraza, 66, has lived in Las Pampas without running water for more than 20 years. She fills up a 200-gallon tank at a friend's house with just enough water for a few days
A Third World problem along the Texas Border. Along the Texas-Mexico border, nearly 90,000 people are believed to still live without running water. An untold number more have running water of such poor quality that they cannot know what poisons or diseases it might carry.
The incredibly stupid way that Americans waste 1 trillion gallons of water each year. Much of the problem is household leaks that are right before our eyes.
Pollutants in snow can flow directly into Michigan waterways. Give it a couple of days, and Michigan snow will turn an unappealing gray from atmospheric pollution, vehicle exhaust, dirt, road salt and petroleum byproducts including the tiny bits of rubber that tires shed.
How the oceans have dried Texas out. Global climate change means the next major drought could be even worse than this one. The Texas climate is sensitive to weather cycles in the Atlantic and Pacific Oceans, and neither has favored precipitation in the state since 2005.
Nuclear waste, arsenic at South Carolina coal plant raise concern. Documents that have surfaced recently show that an unlined 55-acre waste pond near Lake Robinson has leaked arsenic – and it has the unusual legacy of being a dump site for low-level nuclear waste.
Undrinkable: Safe water was within reach, but politics and entrenched interests undercut decades of work. When a group of researchers and students from the University of Texas at El Paso came to town in December 2013, they confirmed what many had long feared: Vinton's water supply is not safe.
Foul stench in rebel-held east Ukraine as war hits water treatment. Fighting in east Ukraine has interfered with water treatment, producing a foul stench from the taps that aid workers say could bring health risks
Overpumping of groundwater is contributing to global sea level rise. So much water is being pumped out of the ground worldwide that it is contributing to global sea level rise, a phenomenon tied largely to warming temperatures and climate change.
Fewer storms lead to worse air quality.Blame the drought and a lack of cleansing rain this winter for the lingering smog and high air pollution levels that prompted officials to forbid wood burning 25 times since November, compared with 16 times last winter.
Winter's salty aftertaste in North Jersey: Road treatment raising sodium level in tap water. The endless parade of snowstorms this winter has not only raised anxiety and frustration levels for New Jersey residents, it has also raised the levels of sodium in the region's drinking-water supplies.
Newsweek Weighs in on Fluoride Debate
State prevalence of artificial water fluoridation in 1992 significantly positively predicted state prevalence of ADHD in 2003, 2007 and 2011, even after controlling for socioeconomic status.
A multivariate regression analysis showed that after socioeconomic status was controlled each 1% increase in artificial fluoridation prevalence in 1992 was associated with approximately 67,000 to 131,000 additional ADHD diagnoses from 2003 to 2011. Overall state water fluoridation prevalence (not distinguishing between fluoridation types) was also significantly positively correlated with state prevalence of ADHD for all but one year examined. 
Conclusions: Parents reported higher rates of medically-diagnosed ADHD in their children in states in which a greater proportion of people receive fluoridated water from public water supplies."  (Newsweek, March 10, 2015.)
California has one year of water left. Will it begin rationing it now?
As difficult as it may be to face, the simple fact is that California is running out of water — and the problem started before our current drought. NASA data reveal that total water storage in California has been in steady decline since at least 2002, when satellite-based monitoring began, although groundwater depletion has been going on since the early 20th century.  Full article from the LA Times.
Alkalinity: An often misunderstood property of water.
The Water Quality Association defines alkalinity as "the quantitative capacity of water to neutralize an acid." In other words, it's a measurement of how much acid can be added to water without changing its pH.
Alkalinity in water is usually made up of bicarbonate (HC03), carbonate (CO3) and/or Hydroxide (OH), but phosphates and silicates can also play a role.
The related term, "total alkalinity," frequently called TA, is defined as "the amount of acid required to lower the pH of the sample to the point where all of the bicarbonate [HCO3-] and carbonate [CO3–] could be converted to carbonic acid [H2CO3]."
Although alkalinity is related to pH, it isn't the same thing. High levels of alkalinity stabilize the pH, but water does not have to have a high pH to have a high level of alkalinity.  As alkalinity is the capacity of water to neutralize its acidic content, alkalinity therefore measures how much acid can be added to a water body without changing the pH level significantly
Alkalinity is not regulated as a water contaminant, but it is often tested since it is a factor in amending and controlling pH.
Treatment of Alkalinity: In most cases, there is no reason to want to alter the water's alkalinity itself, but changing alkalinity is often involved in changing the pH. Neutralizing treatments with such items as Soda Ash or limestone (calcite) usually raise the alkalinity level as well as the pH.
Reference: The Pure Water Occasional.
How Nitrates Are Removed from Drinking Water
Although nitrogen occurs naturally in the environment and is necessary to support plant life,  nitrates can become serious water contaminants.
When taken into the body, nitrates convert to nitrites and are the cause of a number of serious ailments, the most known being "Blue Baby" syndrome.
The main source of nitrates in drinking water is agricultural fertilizer. Other sources include human sewage and livestock manure. Please refer to the  Pure Water Products' Nitrate Factsheet.
The EPA, which sets a Maximum Contaminant Level for nitrates at 10 parts per million, recommends two methods for removing nitrates from water–reverse osmosis and ion exchange.
For drinking water in the home, reverse osmosis is the most common and easiest to apply.  A simple undersink reverse osmosis unit easily removes 95% or more of nitrates from tap water.  Small home distillers can also remove nitrates, as can specially designed ion exchange cartridges for standard water filters.
For larger amounts of water, from single residence wells up to small municipal sizes, the most common removal techniques is ion exchange.
Municipal water treatment plants also resort to blending,  a technique by which water with a high nitrate content is mixed with water with a lower content to produce a blend that meets standards.
Ion exchange, in the case of nitrate reduction,  is more precisely anion exchange. The ion exchange system used for nitrate removal is very similar to a water softener but instead of using softening resin,  which is a cation ion exchange resin, nitrate removal systems use an anion exchange resin. Both systems use sodium chloride salt (brine) to regenerate the ion resin bed.
Nitrate removal is not as simple as hardness removal. Two basic types of anion exchange resin can used, either Strong Base or Nitrate Specific. The latter is more expensive, costing usually about 50% more,  but simpler to use. It is frequently used by private well owners because it is more easily managed.
A Type II Anion (strong base) is best applied to municipal supplies where there is regular testing and maintenance of the system. Because Type II Anion resin is not nitrate selective there will be other ions, primarily sulfate, that compete for the exchange site. To properly size up this system, a complete water analysis will be required to ensure complete compliance and avoid nitrate "dumping" as the system approaches exhaustion. The nitrate level during dumping can be many times higher than the untreated nitrate concentration.
Nitrate selective anion resin is an option used principally on smaller municipal systems and private well sources. Nitrate selective anion resin strongly prefers the nitrate ions to the competing sulfate ions. With this resin we avoid nitrate "dumping". In general this resin may be up to 50% more in cost.
Reference:  reschem.com.
 New Vertical Mount Aer-Max Option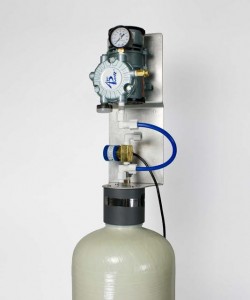 Our new Aer-Max installation kit mounts the air pump on the tank itself. 
The traditional Aer-Max that we've sold for many years now comes with an optional installation kit. With the traditional Aer-Max unit, the air pump is wall mounted beside the treatment tank.  The new optional installation system, pictured above, allows the air pump to be installeed on top of the tank itself, providing a more compact, vibration-free mounting.  The vertical mount system is now available, as is a timer control that makes installation much easier than previously.  Please call 940 382 2814 for details.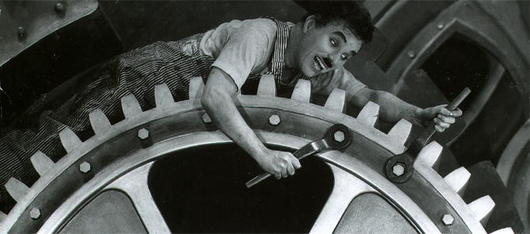 Please visit our RO Parts Page for tanks and accessories.  We also have dedicated parts pages for countertop water filters, undersink filters, and aeration equipment.  We stock parts for everything we sell.
Thank you for reading.  Please come back next week.
Places to Visit on Our Websites in the meantime.
Garden Hose Filters.  Don't be the last on your block to own one.
Model 77: "The World's Greatest $77 Water Filter"
"Sprite Shower Filters: You'll Sing Better!"
An Alphabetical Index to Water Treatment Products
Our famous whole house Chloramine Catcher
Pure Water Occasional Archive: Sept. 2009-April 2013.
Pure Water Occasional Archive: April 2013 to present.
Write to the Gazette or the Occasional:   pwp@purewaterproducts.com
Please Visit
The Pure Water Gazette – now now with an up-to-the-minute feed of the latest water news.