In this first in June Occasional,  you'll hear about the water footprint of  a kilogram of cheese, a water filter made of writhing earthworms, God's water rates, and the water-logged political crisis in Maharashtra.  Meet Cardinal Francis George, Pure Water Annie, Rahm Emanuel, Dr. Joseph Cotruvo, and Moses. Hear about artificial wetlands in Saudi Arabia, water on Mars,  Legionella, Greenpeace, and Cincinnati's big new crypto shield.  Learn how to change water filter cartridges, how to remove formaldehyde from water,  how to produce water by smiting rocks,  and, as always, there is much, much more. 
The 
Pure Water Occasional
 is a weekly email newsletter produced by 
Pure Water Products
 of Denton, Texas. We also publish the 
Pure Water Gazette,
 which posts new articles about water and water treatment daily,  providing "vast piles of information in the Gazette's tangy, irreverent style
" (
Ft. Worth Sun Telegram
).
We invite you to visit 
PureWaterProducts.com
,  the most informative commercial water treatment site on the worldwide web.
If you would like to read this issue on the Pure Water Gazette's website, go here.
While you were keeping an eye on tornadoes and waiting for school to be out, a lot of interesting things happened in the ever-changing world of water.  Read on to hear about some of them.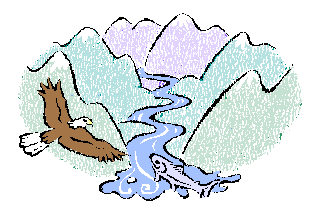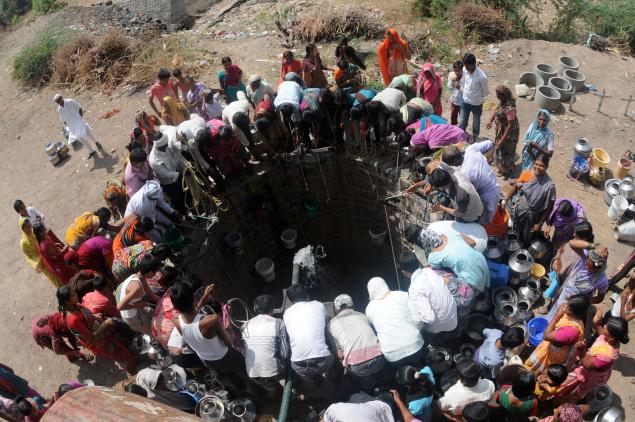 If you're wondering what the residents of  Arvi village in Beed district of Maharashtra in India are doing, they are peering appreciatively into the village well as a government tanker loads 20,000 liters of fresh water into the well.  The region is suffering from a decades-long drought and there has been much political unrest in the region focused on the government's apportionment of scarce water supplies.   See the Pure Water Gazette's earlier article on the subject .  Now there is a new turn of events, as Greenpeace has become involved:
Greenpeace Accuses Authorities in India of Diverting Water from People to Power Plants
Greenpeace has charged that in drought-plagued Maharashtra, the state government diverted water to thermal power plants in scarcity regions.  Water being released from dams, Greenpeace says, is going to power plants when it should be going to thirsty people.
The area is experiencing the worst drought in 40 years. Many areas report zero water storage.
The state government said in a resolution of January of 2013 that water from big, small and medium projects should be reserved only for drinking water, keeping the acute scarcity in mind. Greenpeace believes that this promise is not being kept.
Energy production is a high consumer of water.   In the power plants of the region, to generate one MW of coal based power, 4,000 to 5,000 liters of water are needed per hour.
Greenpeace has called for a cumulative water impact assessment in the river basins of the state,  a halt to diversion of water in the meantime, and eventually an energy policy which is less water intensive.  Power plant officials point out that they are doing all they can to recycle and conserve water and that power, too, is essential to the region.
Reference source: The Hindu.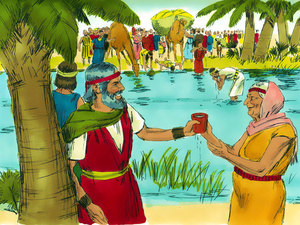 In Biblical times, God always provided water for his people without charge.  The mayor of Chicago is not so generous. 
You may have heard that there is a heated discussion taking place in Chicago about the city's attempt to raise a few million a year for the city coffers by requiring churches to pay for at least a part of the water they use.  Church officials are fighting the change.  Below is a piece by the editor of WaterWorld.  Don't blame WaterWorld for the pictures.   The Pure Water Gazette added them.–Hardly Waite.
Water is God's Gift,  but Pumping Costs Money 
An Editorial from WaterWorld
I was reading an article recently about the flap in Chicago over the city's plan to phase out free water services to local nonprofits, including religious institutions. An interfaith group held a press conference to oppose the change, claiming that having to pay for water might divert funds from vital social services they provide throughout the city.I thought it was much ado about nothing, but what caught my eye was a comment from Cardinal Francis George claiming they shouldn't be charged because water from Lake Michigan was a "gift from God.""It wasn't owned by the city or invented by the city," he was quoted as saying. Later, he was quoted as jokingly commenting, "We feel sometimes we should charge the city for using our water."
I really felt a tremendous urge to reach through the Internet and slap said cardinal upside the head. "Your brain was a gift from God. Why not try using it?" I shouted at my computer screen.
As background, Mayor Rahm Emanuel cut the exemption that gave churches free water in December 2011. He initially planned to charge them a growing percentage of the cost of water services that would rise through 2014, when nonprofits would pay up to 80 percent of their water bill. He recently proposed a new system that would charge nonprofits for water based on their assets. Those with net assets under $1 million would be exempt from paying for water, while nonprofits with more than $250 million in assets would pay the full charge. Those in between would pay a discounted rate.
As we all know, providing water service carries a hefty price tag in this time of aging infrastructure and tight city budgets. I found it surprising that a city the size of Chicago would even consider providing free or reduced price water to any organization. I saw one estimate that the program costs the city about $20 million a year.
In a statement, Tom Alexander, the mayor's deputy communications director, called the asset-based compromise "a fair, reasonable proposal that will allow all nonprofit institutions the chance to continue providing their vital community services while paying their fair share, just as residents do."
I'm sure many people in the water industry have dealt with dummies who think that water should be free. But as we all know, customers are not paying for water; they are paying for the service to treat and deliver it.
In the small world category, I read the Chicago article as I was researching an article on the value of water to the U.S. economy. You can see the article in this issue. Placing a "value" on water is one thing. Determining a fair price for clean, safe water delivered to a home or business is an entirely separate issue. Communicating that difference to your customers is key.
And when someone says that water should be free, you can tell them it is. "Grab a bucket and run down to the lake. Take as much as you want. I won't charge you a dime!"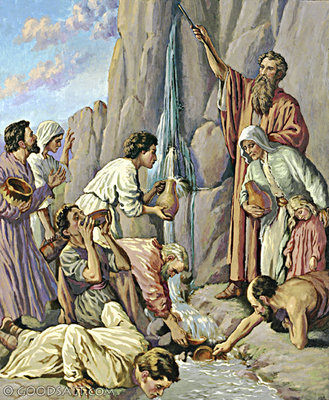 When Moses smote the rock and water poured forth, did God send the Israelites a bill for the water?
Source: WaterWorld
Water News
In Montreal 1.3 million residents were put under an extended "boil water" alert because of an incident that occurred during routine water plant maintenance.  Full story.
According to the BBC, the NASA rover Curiosity's pictures of pebbles on the surface of Mars provide "Ground Proof" that water played a part in the formation of the planet's surface. Full Story.
"Water footprinting" is becoming more important as an environmental management tool. Researchers (the people who always seem to be able to figure things out)  have worked out that the water footprint of one kilogram of beef is 15,500 liters, while the production of the same amount of cheese uses 5000 liters in its life cycle of production through to managing its waste. Full Story.
According to a study done in India, almost 40% of water pollution comes from untreated or scarcely treated sewage dumping as compared with 20% which comes from industrial polluters.  Full Story.
In a bone-dry mining region of Chile, an innovative filter made of a writhing ball of earthworms and wood chips is used to convert wastewater to irrigation-grade water.  The goal is to get a full 90% of the needed water through recycling.  Full story.
It is only two months until National Garden Hose Day.  Full story.
Pure Water Annie continues her "Water Treatment 101" series with "the simplest instructions ever" on how to change filters in countertop and undersink filters as well as reverse osmosis units.
Although formaldehyde has scary connotations, mainly because of its long-time use as an embalming fluid, it is currently an unregulated substance. Ironically, the most common source of formaldehyde in drinking water is from municipal water treatment.  As is most often the case with chemical contaminants, activated carbon filtration is the best way to remove it.  This in-a-nutshell view of the chemical is lifted from the Pure Water Products contaminant list.
The city of Cincinnati's new $30 ultraviolet system is as good as they come.  The new UV units will process up to 40 million gallons of water per day.  The city, which draws its water from the Ohio River, will be protected from disease-causing protozoa such as Cryptosporidium and Giardia which are very difficult to treat with chlorine.   
By Dr. Joseph Cotruvo
Since the 1974 implementation of the Clean Water Act the number of waterborne ailments has declined, but the portion of  these attributable to distribution system contamination has increased. Legionella reminds us that nature is always evolving and creating microbial hazards. Water treatment to control microorganisms should  be given top priority over " . . .hypothetical risks of trace chemical contaminants that get a lot of publicity and lead people to spend money on bottled water because they think it is safer." 
Using technology known as "Natural Engineered Wastewater Treatment,"  Alcoa has established in Saudi Arabia an innovative wastewater reclamation system that mimics the physical, chemical and biological processes of natural wetlands.  It saves lots of money and 2 million gallons of water per day.
Thank you for reading, and please stay tuned next Monday for another wisdom-packed  Occasional. 
Places to Visit on Our Websites
Model 77: "The World's Greatest $77 Water Filter
"Sprite Shower Filters: You'll Sing Better!
An Alphabetical Index to Water Treatment Products
Write to the Gazette or the Occasional:   pwp@purewaterproducts.com
Please Visit
The Pure Water Gazette – now in an easier to navigate format.