---
Posted
February 23rd, 2015
The Pure Water Occasional for February 23, 2015
In this last for February Occasional, you'll hear about arsenic, nitrates, and rocket fuel in California water, "run water" alerts in Vermont, rain (much more needed!) in Brazil, jellyfish in nuclear reactors, manganese nodules and giant cement anchors in the ocean, recrystallization in brine tanks, desalination in the Caribbean, and frozen pipes in Art Garfunkel's New York penthouse. You'll learn how vegetation creates rain which creates vegetation, how chlorine eliminates typhoid fever, and how the "hypoxia states" plan to conquer hypoxia. Then there's the protest against arrests during water rate protests in Ireland, the plight of starving pelicans, monster hurricanes of the past, the value or lack thereof of minerals in drinking water, Pure Water Annie on potassium chloride as a softener regenerant, and, as always, there is much, much more.
The Pure Water Occasional is a project of Pure Water Products and the Pure Water Gazette.
To read this issue on the Pure Water Gazette's website,  please go here.  (Recommended! When you read online you get the added advantage of the Gazette's sidebar feed of the very latest world water news.)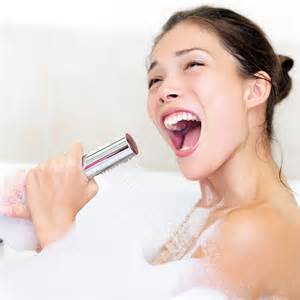 How razing the rainforest has created a devastating drought in Brazil
Twenty million people in Sao Paolo now face severe rationing due to the disruption of the far-away Amazon's rain-making machine,
by Geoffrey Lean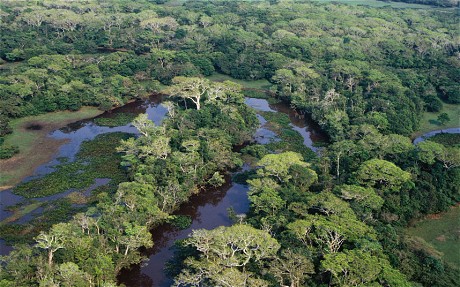 The vast forest generates its own rain, which then falls across the country.
It used to be known as "drizzle city", but now Sao Paolo – South America's biggest conurbation – is now being compared with a desert. In what should be the middle of a rainy season, it is so dry that its 20 million inhabitants face having their water cut off for five days a week.
The giant Cantareira reservoir system, which supplies nine million people, is now only 5 per cent full, and predicted to run dry in April. The smaller Alto Trietê system, which serves three million people in the city, is a little better off, but still only 15 per cent full. With the dry season due, it is calculated that only severe rationing can stop the city's water from running out altogether before the rains start again in November.
Some economies have so far been made.The daily amount extracted from reservoirs has been cut by 22 per cent, and some residents are already having their water cut off for 16 hours a day. But far more is needed, and there have been warnings that, before long, the taps will only run on two days each week.
Already, better-off citizens are buying large tanks in the hope of being able to hoard water. Many apartment blocks are trucking the stuff in at great cost; others are trying to drill wells. But most of the people can resort to none of these measures. Water riots could be on the cards.
Years of maladministration and neglect play some role in this. The gathering crisis was ignored in the run-up to last year's World Cup, and in the elections that followed it. So does lack of maintenance: it is estimated that 40 per cent of the Brazil's water supplies are lost through leaking pipes and outdated infrastructure.
But population growth and other environmental factors are also to blame. Climate change is believed to have had an effect. So is the way that cities burn so much energy they become 'heat islands', sucking up moisture. But perhaps the biggest and most alarming factor behind the drought is deforestation in the Amazon basin to the north.
Study after study has now shown that the vast Amazonian forest generates its own rain, with the trees continuously recycling moisture blown in on easterly winds from the Atlantic. The rain-laden winds go on travelling west until they hit the high barrier of the Andes, and then turn south and east, dumping rain over the agricultural lands that form Brazil's breadbasket and Sao Paolo itself. This giant rainmaking machine is now breaking down as its constituent parts disappear.
The one silver lining of this lack of clouds is that Brazilians finally seem to be waking up to the problem. Social movements and unions are joining environmentalists in calling for the deforestation to stop, as they see that ecological destruction brings poverty in its wake. Whether they succeed is another matter.
Source:  The Telegraph.
Chlorine and Typhoid Fever
The first continuous application of chlorine for drinking water in the U.S. was in Jersey City, New Jersey, in 1908 as calcium hypochlorite. The city's typhoid fever death rate in 1895 was 80 per 100,000.  After chlorination was initiated the typhoid fever rates declined dramatically. A few days prior to the Jersey City initiation, the Chicago stockyards began to chlorinate animal feed water to improve the animals' health and weight gain. Within a decade basically every large water supplier in the U.S. was chlorinating its drinking water and by 1936, typhoid fever was essentially eradicated.
Reference: Water Technology.
Arsenic, nitrates among pollutants in California drinking water
by Sharon Bernstein
California's public drinking water systems violated safety levels for contaminants more than 1,000 times during the 2012-2013 fiscal year says a report that cites high levels in some water systems of arsenic, nitrates and other pollutants.
The report, ordered by the state Senate's Environmental Quality committee, is part of a broader effort to improve compliance with drinking water regulations, prompted by criticism of the state's oversight and a court settlement.
"Although the vast majority of Californians who receive drinking water from a public water system receive water that met quality standards in recent years, there are still many who may have consumed unsafe water," Senate researchers said in the report, which was released on Wednesday.
According to the report, about 98 percent of water provided by the state's public water systems met standards for water quality in 2013. But the systems regulated by the state, which provide water to 38 million Californians, were subject to about 1,800 enforcement actions by state regulators during the fiscal year 2012-2013.
Water in California violated federal quality standards more than 1,000 times during the fiscal year, triggering reports to the Federal Environmental Protection Agency (EPA), the report said.
The most common violations were for high levels of such contaminants as arsenic, nitrates, naturally occurring radioactive minerals and perchlorates, which are natural and man-made chemicals used in rocket fuel and explosives, the report said.
The nitrates, which can cause serious illness, including blue-baby syndrome in infants, tend to come from fertilizer run-off, sewage leaks and erosion, the report said.
Arsenic, which causes skin damage, circulatory system problems and increased cancer risks, occurs naturally, but when present at high levels usually involves a human component, the report said.
"Water is a basic human right and we need to do everything possible to protect it," said Senate Democratic leader Kevin de Leon, who said the report will guide policy decisions as the state grapples with a drought that is entering its fourth year.
Lawmakers will use the report in deciding how to spend revenues from $7.5 billion in bonds authorized by voters to pay for projects to shore up the state's water supply, de Leon said.
The State Water Resources Control Board, which last year assumed oversight of drinking water quality from the Department of Public Health, said Wednesday it was reviewing the report and would soon submit its own safe drinking water plan.
Source: Reuters.
Pure Water Gazette Fair Use Statement
Water News for the week of February 23, 2105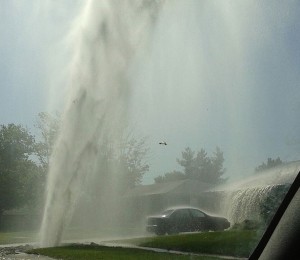 This weeks news was repleat with stories about water main breaks and attempts to protect water mains from freezing temperatures.  Here's one:
In an unprecedented move, officials in Winooski, VT are pleading with residents to leave their faucets running.
Although protests over water charges continue, there's a bold plan in Ireland to reduce water loss due to leaks in public water system.  Irish Water announced its ambitious plan to reduce its water loss due to leaks to 20% by 2040.
Brazil finally gets some rain, but rationing still looms. Heavy rains during Brazil's four-and-a-half-day Carnival holiday offered the first relief in months for the country's drought-stricken and economically crucial southeast, but was unlikely to end fears of water and electricity shortages.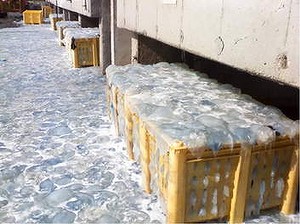 Sweden's Oskarshamn nuclear plant shut down a reactor after jellyfish clogged its seawater pipes.
 Spineless attacks on nuclear power plants could increase. Nuclear power plants increasingly face a new enemy: the humble jellyfish.
In the fight for water, it's North versus South. You've heard that quote, "Whiskey's for drinkin', water's for fightin"? That's been true in California for well over a century and the current drought has only intensified conflict.
Monster Hurricanes Battered US Northeast 800 Years Ago
Giant storms, possibly more powerful than any in recorded history, used to frequently pound New England. From the peak of the Roman Empire to the height of the Middle Ages, hurricanes of immense strength ravaged the area for over 800 years.
A new study of sediment deposits from Cape Cod, Massachusetts, shows that 23 severe hurricanes hit New England between 250 and 1150 CE. On average, that equates to a severe storm every 40 years. Many of these storms were more intense than any that have hit the area in recorded history.
The hurricanes which lashed the northeast United States in this period would now be classed as category 3 storms – like Hurricane Katrina – or category 4 storms – like Hurricane Hugo. If these sort of storms hit the area today, catastrophic damage would be inflicted.
We may be entering a period where category 3 hurricanes can be expected once a decade rather than every 40 years. Read the full article.
Hypoxia
The states that make up the Hypoxia Task Force have an ambitious plan to reduce hypoxia in the Mississippi River, Gulf of Mexico, and other water bodies. Hypoxia is a lack of oxygen in the water, caused by algae blooms, which are in turn caused by excess nutrients.
The Gulf of Mexico's dead zone averages about 6,000 square miles, and the task force wants to shrink it to 2,000 square miles by 2035. Achieving that would require a 45% reduction in nitrogen and phosphorus making their way to the Gulf.
Sources of nitrogen and phosphorus are agriculture, urban stormwater runoff, and industrial activities and wastewater plants.
The task force is using various methods to fund the strategies it has identified, including federal and state funding and a fertilizer tax. For example, Minnesota will provide $221 million in state funds for watershed restoration and protection, monitoring, and other activities. Wisconsin will use both state funds and federal Clean Water Act funding to expand agricultural conservation practices in critical Mississippi River watersheds. Illinois is placing a $0.75 per ton assessment on all bulk fertilizer sold in the state; the money will go toward education programs and research. A press release detailing some of the other strategies is available here.
The 12 task member states are Arkansas, Illinois, Indiana, Iowa, Kentucky, Louisiana, Minnesota, Mississippi, Missouri, Ohio, Tennessee, and Wisconsin. The task force also includes EPA, the US Departments of Agriculture and the Interior, the US Army Corps of Engineers, the National Oceanic and Atmospheric Administration.
Source: Stormwater.
Metal Balls Discovered on Sea Floor
The R/V Sonne, a German research ship, was several hundred miles east of Barbados when a mesh net meant to capture marine life instead brought up balls of manganese ore that were bigger than softballs. A remote camera later revealed that the seafloor was littered with these round manganese nodules, some the size of bowling balls. Yahoo News.
Fresh nuclear leak detected at Fukushima plant in Japan. Sensors at the Fukushima nuclear plant have detected a fresh leak of highly radioactive water to the sea, the plant's operator announced on Sunday, highlighting difficulties in decommissioning the crippled plant.
Florida House of Representatives takes wrong approach on water. The Florida House's move to quickly change how the state manages and preserves water is more about pleasing developers and farmers than protecting the environment.
California water officials eye new restrictions in drought. As the California drought drags on, water officials are considering expanding mandatory outdoor water restrictions on homeowners and adding new limits on restaurants, hotels and decorative fountains.
Drought triggers alarms in Brazil's biggest metropolis. Driven by a mysterious atmospheric anomaly, a 2-year-long drought has exposed all of southeast Brazil, a region home to 85 million people, to a crippling water crisis.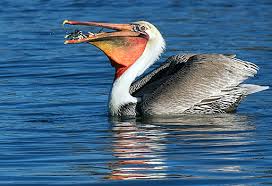 Starving brown pelicans stranded inland. California's brown pelicans ride a roller coaster of good and bad times. Poisons nearly drove them to extinction 50 years ago. They failed to breed last year, possibly because of warmer, El Niño-like waters. Now a handful of birds are showing up in odd places far from the coast and starving, and no one knows why.
Desalination: How Caribbean islands are ensuring long-term water security. To mention the Caribbean is to conjure up images of sun, sand and sea. Yet the island region's reputation for crystalline blue waters washes over a critical problem for many of its 30 territories: water scarcity.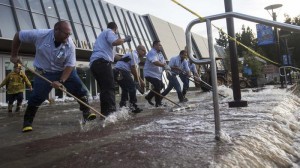 Aging water mains a $1-billion headache for California's Department of Water and Power. As officials weigh rate increases, pipes continue to deteriorate and leak, spewing millions of gallons of water onto city streets amid one of California's worst droughts on record.
Return of the Dust Bowl? Climate change study highlights how West must adapt. A new study forecasts severe, generation-long droughts in parts of the American West this century. Cities and farms have already vastly improved water conservation, but they'll likely have to do more.
Art Garfunkel's NYC penthouse suffered water damage because of a frozen pipe.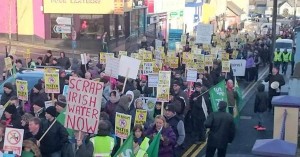 As the Irish water charge protest goes on, over 5,000 showed up for a rally protesting arrests during previous protests.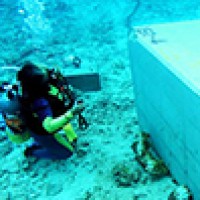 Protest over US Military Anchors in Sea
Massive concrete blocks used in a seabed survey for the relocation of a U.S. military air station are destroying the coral reef off the Henoko district of Nago, Okinawa Prefecture, a group said.
Nago-based Heri Kichi Hantai Kyogigai (group opposed to building a heliport and military base) said its members took underwater pictures of the damage near government-designated off-limit zones earlier this month.
They said they found the concrete block anchors, each weighing 10 tons to 45 tons, at several spots.
The anchors are designed to secure buoys and floats that mark the restricted zones in the government's seabed survey. The area off Henoko is the planned site for the relocation of the U.S. Marine Corps Air Station Futenma from Ginowan, also in Okinawa Prefecture.
"The area is covered with coral that represents a rich ecosystem, so it is certain that the installed blocks will inflict damage on them," said Mariko Abe, a senior member of the Nature Conservation Society of Japan.
The photos fueled calls by anti-base activists on Feb. 10 for the Okinawa prefectural government to demand the Defense Ministry submit a permit application to bore holes in the seabed and collect soil sample off the Henoko district. Full story.
 Pure Water Annie's FAQ Series

Gazette Technical Writer Pure Water Annie Answer's Your Persistent Questions about Water Treatment
This Week's Topic: Regenerating Water Softeners with Potassium Chloride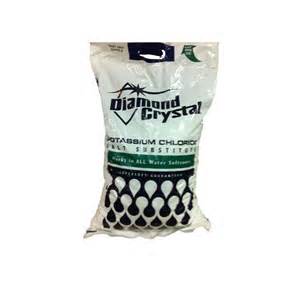 Why do some people use potassium chloride rather than salt to regenerate their water softener?
The main reason is to avoid using  sodium–for health or environmental reasons.  In fact, some cities require its use in an effort to limit sodium levels in wastewater.
How does the cost compare with standard softener salt?
Potassium chloride (KCl) is more expensive, considerably more expensive in some areas. Also, salt is more readily available.  Since potassium is used in farm fertilizer, it's in much shorter supply and it may eventually get very expensive.
I've heard you have to use more potassium chloride than standard softener salt to regenerate the softener.  Is this true?  
In theory, it would seem to be true, but research has shown that this isn't a big factor.  In one study, when using 15 lbs. of salt per cubic foot of resin for regeneration, standard salt was only about 2% more efficient than potassium chloride.
Are there problems with potassium chloride?
Other than the cost and in some areas the lack of availability, one issue is the tendency under certain conditions (mainly temperature swings when softeners are installed in unheated areas) for a condition called recrystallization to occur.  This is similar to the condition called "salt bridge,"  with regular salt, but when temperatures fluctuate potassium chloride can precipitate and drop to the bottom of the brine tank forming a solid mass beneath the salt grid platform. There are strategies to alleviate this which include insulating the brine tank or elevating the tank on a wooden platform.
I have a reverse osmosis drinking water system.  They told me it takes the sodium out of my softened water.  Is this true?
Yes.  It will also remove potassium, so if you have an RO unit for drinking water, your choice of a regenerant has no health implications.
And if I don't have an RO unit?
The amount of sodium you ingest in softened water is pretty insignificant when compared with your total sodium intake, so drinking softened water normally isn't important. For people trying to eliminate all sources of sodium, of course, it may be a different story.
If I want to try potassium chloride in my softener, do I need to make modifications?
No,  salt and potassium chloride both work well in standard water softeners.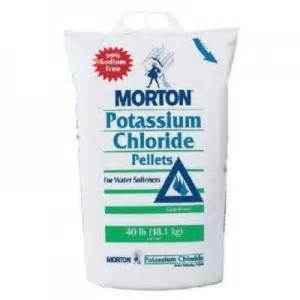 Will Drinking Reverse Osmosis Water Turn Your Bones to Putty?
Come, Let Us Reason Together
by Gene Franks
Several years ago a leading Natural Hygienist and distiller merchant wrote an article praising the health benefits of low-mineral distilled water. He used as a negative example the spring water at Hot Springs, Arkansas, which, he said, was so high in calcium and other minerals that it clogged the arteries and joints of the the natives, causing severe arthritic crippling. He offered no evidence except his personal observation.
This caught my attention because I had been to Hot Springs several times and the native Arkansans seemed to me as supple of limb as people in Texas or California. They did not clank or creak or cry out in pain when they walked.
Then I read a short book by another health authority, also a distiller vendor, named Dr. B., who described a scientific experiment he did with goats. Dr. B. put out several bowls of water, all high in dissolved minerals except one. When some thirsty goats were brought to the area, they all went straight for the distilled water and ignored the high mineral spring water. Dr. B said that this proved natural creatures instinctively know that distilled water is best.
However, when I tried to replicate Dr. B's experiment with my own lab animal, my dog Pu Ch'i, I found that she always drank from the bowl closest to her, whether is was low in minerals or high, whether it was clear or muddy, whether it was bottled water or tap.
When I started selling water filters in 1986 I was exposed to the opposite view. Those who sell filters, as opposed to distillers or reverse osmosis systems, take the view that minerals in water are not just good but necessary, and that drinking low mineral water not only fails to provide essential nutrients but actually leaches calcium from bones and organs. Filter sellers at the time, especially the MLMers, cited a popular book (now forgotten, even by me) which gave examples of populations who drank hard (calcium rich) water as having healthier hearts than those of people who lived in areas where the water was naturally soft (low in calcium).
Since that time the great mineral war has continued, usually fueled by one marketing program or another. The arguments have remained essentially the same over the years. The mineral war is fought mainly at MLM rallies and on commercial websites. Independent science has not been a big player.
On one side are vendors of distillers, reverse osmosis units, and, more recently, deionizing cartridges, backed by many alternative health experts, who advocate "pure" water, which is defined as water with very low "dissolved solids" (minerals); they view anything in the water other than pure H2O as sludge, an impediment to water's main function as the body's purifying solvent, and they blame high-mineral water for everything from arthritis to kidney stones. Many doctors appear to support this view by putting patients with kidney ailments on low-mineral reverse osmosis water.
The other side, more vocal, is comprised mainly of sellers of conventional drinking water filters and, more recently, the curious devices called "ionizers." Their pitch focuses on the body's need for minerals and they argue that low-mineral water actually removes ("leaches" is the favorite word) minerals from the body. With the arrival of "ionizers" to the market, the issue of pH has been added. Ionizer vendors preach that the body needs water that is sky- high in pH and alkalinity, and that low-pH reverse osmosis water is harmful.
My Take on All This

Since our company sells both reverse osmosis and conventional filters, we don't have a dog in the fight. If someone asks my opinion, I give it, but we're happy selling either a filter or an RO unit and we try to make the product's ability to reduce known contaminants, not mineral content, the issue.
We do this because we believe that except in extreme cases (like sea water, which I don't advise you to drink) the mineral content of water is not a big issue.
Consider that in some parts of the United States, the total dissolved solids (TDS) count in drinkable city water is 20 times that of other regions. Is there an ideal TDS? Is there a correlation between the health of the citizens and the TDS of the local water? The total solids count contains both calcium and sodium. Some natural water has almost no calcium, while some naturally hard water has almost no sodium. Does this matter?
If you live in a city in west Texas, the tap water you drink may have 500 ppm (parts per million) hardness (calcium and magnesium), but if you live in Bolivar, Texas, your tap water has 500 ppm sodium and virtually no hardness. Does this matter? My unscientific observation has been that people in Bolivar and people in Lubbock both do fine, as do people who live in northern California where the TDS of tap water may be 30 ppm with very little calcium or sodium. I spoke with a customer in Colorado this week whose natural TDS reading is 27. He has a reverse osmosis unit to protect against fluoride and arsenic that reduces the TDS to 2. Should he put a "remineralizing" device on his reverse osmosis unit to restore the water to its original TDS, although that TDS is less than 1/20 of the TDS of the natural water in many areas? Does the difference between 27 and 2 matter? Does the difference between 1000 and 50 (typical reverse osmosis reduction) matter?
The human body has evolved and learned to thrive on a planet whose water differs greatly in mineral content from place to place. When water is in the clouds it is distilled water—literally–because the earth's recycling process is a giant water distiller. When the distilled water precipitates and falls to earth it picks up impurities from the atmosphere and becomes very much like reverse osmosis water in mineral makeup, having roughly the same Total Dissolved Solids count (around 10) as lake water that has been run through an undersink reverse osmosis unit in your kitchen. People who have rainwater collection systems to provide water for their homes have essentially the same water they would have if they pulled water from a well and processed it through a reverse osmosis unit.
Should we assume that drinking rainwater is unhealthy and that the only suitable drinking water is water that has filtered through dirt and rocks and picked up their impurities?
To me it seems obvious that the human body has exceptional ability to adapt to its environment. Just as we can adjust to cold climates and hot, we have a wide range of tolerance for food and water. If you drink water with 20 parts per million dissolved minerals or 400, the inner wisdom of your body will quickly adjust it to what it needs. When your body needs minerals, it takes them the easy way, from the organic minerals in foods. It does not waste its time trying crack open the inorganic minerals (rocks) dissolved in water unless no other minerals are to be had.
Although the pH issue raised by "ionizer" vendors doesn't deserve an argument, I'll make a single comment: Simply ask yourself–does it seem reasonable that the human body, which has evolved over eons and done extremely well drinking natural waters from a wide pH range, from very acidic to very alkaline, now in the the 21st century suddenly requires high pH water that can only be obtained from a $2,000 "ionizer?"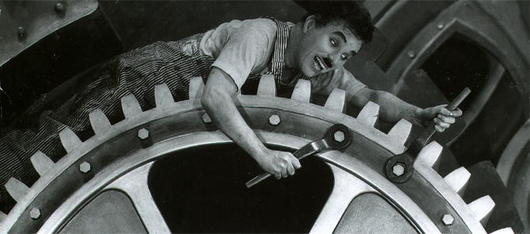 Please visit our RO Parts Page for tanks and accessories.  We also have dedicated parts pages for countertop water filters, undersink filters, and aeration equipment.  We stock parts for everything we sell.
Thank you for reading.  Please come back next week.
Places to Visit on Our Websites in the meantime.
Garden Hose Filters.  Don't be the last on your block to own one.
Model 77: "The World's Greatest $77 Water Filter"
"Sprite Shower Filters: You'll Sing Better!"
An Alphabetical Index to Water Treatment Products
Our famous whole house Chloramine Catcher
Pure Water Occasional Archive: Sept. 2009-April 2013.
Pure Water Occasional Archive: April 2013 to present.
Write to the Gazette or the Occasional:   pwp@purewaterproducts.com
Please Visit
The Pure Water Gazette – now now with an up-to-the-minute feed of the latest water news.