---
Posted
December 22nd, 2015
Happy Holidays.  And thank you again for reading the Occasional. 
 The Pure Water Occasional for December 21, 2015
In this just-before-Christmas Occasional, you'll hear about the Essel World Water Kingdom, the sad fate of poor Timmy, the giant hole at Cerro de Pasco, the water dilemma at Hoosick Falls, the demise of Alaskan villages, and the amazing success of Maddy Johnston. Then there's more bad news about Glyphosate (aka Roundup), lost water because of dams and irrigation, and lead in Flint, Michigan's drinking water. Learn what mangrove plants have in common with human kidneys, how Plesiosaurs were like penguins, and why monarch butterflies love milkweed. Learn about chlorine, chloramines, and how to get rid of them.   And, as always, there is much, much more.
To read this issue on the Pure Water Gazette's website,  please go here.  (Recommended! When you read online you get the added advantage of the Gazette's sidebar feed of the very latest world water news.)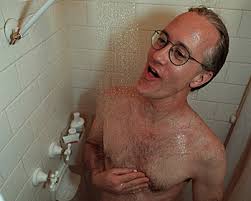 You'll sing better.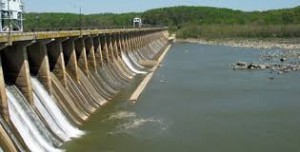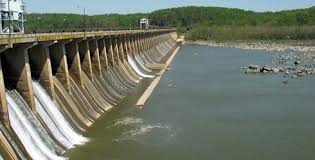 Dams may cause huge losses of freshwater
LONDON: Dams and irrigation significantly increase evapotranspiration, an effect that increases the loss of freshwater to the atmosphere, thereby reducing the water available for humans, societies and ecosystems on land, a new study has found.
The study shows that dams and irrigation considerably raise the global human consumption of freshwater by increasing evapotranspiration – evaporation and plant transpiration from the Earth's land and ocean surface to the atmosphere.

"Previously, the global effects of local human activities such as dams had been underestimated. This study shows that, so far, the effects are even greater than those from atmospheric climate change," said Fernando Jaramillo, postdoc at Stockholm University in Sweden.
The researchers have compiled and analyzed data from 1901 to 2008 for climate, hydrology and water use in one hundred large hydrological basins spread over the world.
Their results raise the previous estimate of the global human freshwater footprint by almost 20 per cent.
The increase in total freshwater loss from the landscape to the atmosphere from human activities is calculated to be around 4,370 cubic kilometres per year, researchers said.
This corresponds to two thirds of the annual flow of the Amazon River, the world's largest river by discharge, they said.
"The human-caused increase in this loss is like a huge river of freshwater from the landscape to the atmosphere. We have changed so much of the freshwater system without knowing it," said Gia Destouni, Professor at Stockholm University.
"Our study shows that we have already passed a proposed planetary boundary for freshwater consumption. This is serious, regardless of whether we have crossed a real boundary or if the boundary has been underestimated," Destouni said.
The Mayor of Flint, Michigan Declared a State of Emergency Because of Lead in the City's Water Supply
Flint's mayor has declared a state of emergency due to problems with the city's water system caused by using water from the Flint River, saying the city needs more federal help.
Karen Weaver announced the declaration Monday night and said the move intends to help raise awareness of continuing problems. She said damage to children caused by lead exposure is irreversible and the city will need to spend more on special education and mental health services as a result.
"I am requesting that all things be done necessary to address this state of emergency declaration, effective immediately," Weaver told the City Council.
Exposure to lead can cause behavior problems and learning disabilities in young children.
Genesee County earlier declared a public health emergency. Officials have told Flint residents not to drink unfiltered tap water.
Flint switched from Detroit's water system last year to Flint River water in a cost-cutting move while under state emergency financial management. The Flint River was supposed to be an interim source until the city could join a new system getting water from Lake Huron.
But residents complained about the taste, smell and appearance of the water. Officials maintained the water met safety standards, but children were found to have elevated levels of lead in their blood and it was determined that corrosive river water was drawing lead from aging pipes.
Flint returned to Detroit's system in October.
Weaver was elected in November, unseating the incumbent mayor who led the city during the public health emergency and blamed state and federal agencies for the water problems. Weaver had promised while campaigning to issue an emergency declaration.
City Council members were divided about what the declaration will mean, The Flint Journal reported. Councilman Scott Kincaid said it's needed to seek more aid, noting, "We have to prove … that we need resources."
County commissioners will consider Weaver's declaration at a Jan. 4 meeting. She needs approval from county and state officials before possibly getting aid from the federal government.
Flint Councilman Josh Freeman said he doesn't want residents to expect immediate help with the city's water infrastructure, including lead service lines, because of the declaration. He said it doesn't fix the problem.
"We need to find a way to actually fix the problem," Freeman said.
Pure Water Gazette Fair Use Statement
Lead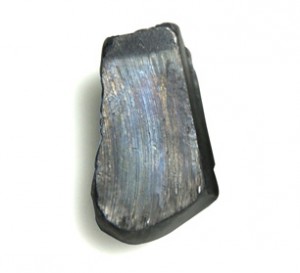 ---
 Lead's EPA Maximum Contaminant Level Goal is 0.015 mg/L  (15 parts per billion).
Lead is a toxic metal that was regularly used in a wide range of household and industrial products throughout much of the last century, and found in plumbing and service lines until the EPA established a lead ban in 1986.
Lead rarely occurs naturally in water. When found, it is usually a result of industrial, smelting or mining wastes, or from corrosion of plumbing.
Health Effects of Lead
Lead is toxic to all humans, but the risk of lead poisoning is highest in children and pregnant women. Children absorb 30-75%, adults only 11 percent.
The EPA lists several symptoms associated with acute lead poisoning:
---

Lead can cause a variety of adverse health effects when people are exposed to it at levels above the action level [15 parts per billion] for relatively short periods of time. These effects may include interference with red blood cell chemistry, delays in normal physical and mental development in babies and young children, slight deficits in the attention span, hearing, and learning abilities of children, and slight increases in the blood pressure of some adults.

---
The agency also warns that lead is a potential carcinogen, and can lead to kidney disease or stroke with long term exposure.
Water Treatment for Lead
Lead can be treated with ion exchange (water softeners) or reverse osmosis. It can also be treated by removing the source, or through corrosion control methods in pipes, including: pH and alkalinity adjustment; calcium adjustment; silica or phosphate-based corrosion inhibition. Point of use filters containing special lead-removal resins or KDF 55 are also very effective for providing lead-free drinking water.
Sources: EPA, Water Technology Magazine Volume 31, Issue 8 – August 2008. Photo: images-of-elements.com
Reprinted here from the Water Treatment Issues section of the main Pure Water Products website. The section features concise information about scores of water treatment problems.
Has your water been tested for perfluorooctanoic acid?  Probably Not.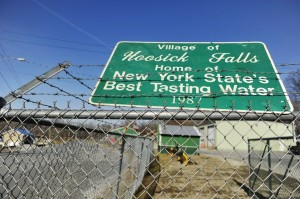 An article from the Hoosick Falls, NY  Times Union starts like this:
The U.S. Environmental Protection Agency issued a statement in November 2015 warning residents in Hoosick Falls not to drink or cook with village water because of elevated levels of a toxic chemical found in the public water system last year.
In response, the village's mayor has reversed his position, and adopted the EPA's recommendation.
The man-made chemical, perfluorooctanoic acid, or "PFOA," was used since the 1940s to manufacture industrial and household products such as non-stick coatings and heat-resistant wiring, including at a factory near the village water treatment plant. The chemical was discovered in the village water system last year by a private citizen, Michael Hickey, whose father, John, died of kidney cancer in 2013. PFOA has been linked to kidney and testicular cancer, as well as thyroid diseases and other serious health problems.
The EPA's public statement was issued four days after a Times Union story reported that the state Health Department and village leaders, including Mayor David B. Borge, downplayed the health risks of PFOA in the water supply, and declined to warn people not to drink it. The story reported that many village residents, including a longtime family physician in Hoosick Falls, Dr. Marcus E. Martinez, suspected that high cancer rates and other extraordinary health problems in the village's population may be the result of the contaminated water.
"While the EPA continues to gather information and assess the Hoosick Falls water contamination, it recommends that people not drink the water from the Hoosick Falls public water supply or use it for cooking," the EPA's statement said. The agency's statement said it does not believe that showering or bathing in the water poses a risk for unsafe exposure to PFOA.
Perfluorinated Chemicals (PFCs) are a group of manufactured chemicals used in a wide range of industries and commercial products. The two most common PFCs are perfluorooctanoic acid (also known as PFOA or C8) and perfluorooctane sulfonate (PFOS). PFCs have been in use since the 1940s to make products that are water-, oil-, fire-, stain- or grease-resistant—products like Teflon®, non-stick cookware, stain-resistant carpeting and fire-extinguishing foams.
PFCs are among a group of chemicals that the EPA has labelled "emerging contaminants"—chemicals that may pose or are percieved to pose a threat to human health or the environment. PFCs are of concern because:
They break down slowly in the environment and move about readily in air.
They have been detected in surface water in cities throughout the U.S.
They have been detected in the blood of as many as 98% of Americans.
Once in the body they tend to stay there for a long period of time, about 4 years.
They have been shown to cause developmental and other health effects in laboratory animals.
In the late 1990s it was discovered that PFOS was present in the blood of a vast majority of the American population. The  EPA met with 3M, the primary manufacturer, who agreed to phase out manufacturing of the chemical and to cease production by the year 2002. PFOA underwent a similar phase-out through an EPA "Stewardship Program" of major manufacturers that should see most emissions and use reduced significantly by the year 2015.
Human exposure may occur through diet, inhalation, or use of products containing the chemicals. The EPA reports that "fish and fishery products" appear to be a primary source.
As the Hoosick Falls article indicates, C8 and PFOA can also enter your body through drinking contaminated water.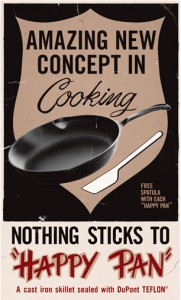 The revelation that PFOA has long contaminated the water of Hoosick Falls clearly indicates that chemicals may be in water supplies without the knowledge of those who drink the water. PFOQ is one of literally hundreds of thousands of unregulated chemicals that are in use throughout the country.
It only makes sense to protect yourself with a point of use water filtration system whether or not there is evidence of chemical contamination.
The EPA, by the way, recommends carbon filtration or reverse osmosis as the best home treatments for PFOA.
Read the full Hoosick Falls report in the  Times Union.
More about PFCs on the Pure Water Products contaminants page.
Water News
The mangrove plant has adapted to survive in salt water and is able to filter between 90 and 95 per cent of the salt at its roots, while the human kidney is able to purify up to 150 litres of water daily. Researchers at the National University of Singapore have adapted these natural methods into a new membrane technology which they claim will save 30% in water treatment costs. Details.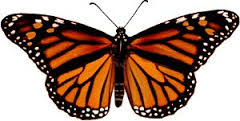 The California drought, so bad for so many animals, may actually be giving the dwindling monarch butterfly population wings. The beautiful black-and-orange butterflies, once numbered around 1 billion, have dropped to fewer than 60 million over the past two decades as the national supply of milkweed has fallen prey to pesticides and development.
As residents throughout California rip out their water-thirsty lawns, many are choosing to dot their properties with milkweed instead. And it just so happens that female monarchs will only lay their eggs in milkweed. As such, California's new landscaping trend may actually save threatened butterflies, in addition to water.
The giant hole that's swallowing a 400 year old city.The 400-year-old Peruvian city Cerro de Pasco, which at 4328 meters is one of the world's highest cities, is slowly being swallowed by a huge hole that's also poisoning its people.
Bombing of water infrastructure is becoming standard warfare in the Syrian Civil War. Details.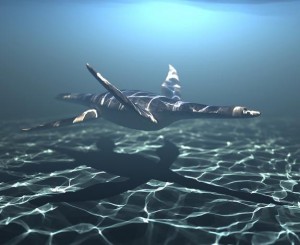 Plesiosaurs,giant marine reptiles that lived during the dinosaur age, likely propelled themselves forward underwater by flapping their two front flippers, much like penguins do today. The paleo-giants probably didn't rely much on their back flippers for propulsion, as that movement would've only marginally increased their speed.  Full story.
Temperatures are rising faster in Alaska than anywhere else. Here's a very interesting video of what's happening to Alaskan villages. See When the Water Took the Land.
The Soil Association of Great Britain has called for a ban on Glyphosate. (In the US, we know it mainly under the brand name Roundup.)
Three months ago, the World Health Organisation's International Agency for Research on Cancer (IARC), concluded 'Glyphosate is probably carcinogenic to humans'. The newly recognised dangers of Glyphosate come against a background of increased use in the UK – not just in farming but also in public parks and other urban areas to kill weeds.
On 15 July, new figures analysed by the Soil Association were released at a scientific briefing in London showing Glyphosate use in UK farming has increased by 400% in the last 20 years and it's one of the three pesticides regularly found in routine testing of British bread – appearing in up to 30% of samples tested by the Defra committee on Pesticide Residues in Food (PRiF).
The Soil Association is now calling for a UK ban on the use of Glyphosate sprayed on UK wheat as a pre-harvest weedkiller and its use to kill the crop to ripen it faster. Full article.
Two eighth-grade girls have shown that adding polymers from disposable diapers to soil can greatly increase water efficiency. Details.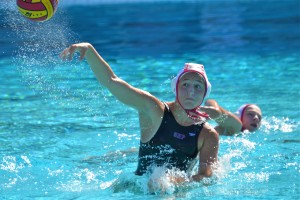 Sacred Heart Prep's Maddy Johnston was named by Mercury News as this season's best girls' water polo player in the Central Coast Section. She had an incredible season with 97  goals and 66 steals.
Salmon get smaller and thinner as the water gets warmer.
Groundwater depletion adding to global sea-level rise. Increasing amounts of water are being depleted from the world's aquifers, and scientists have estimated that large portion of the water ends up flowing into the oceans.
The Pure Water Gazette famous water pictures series: The Essel World Water Kingdom.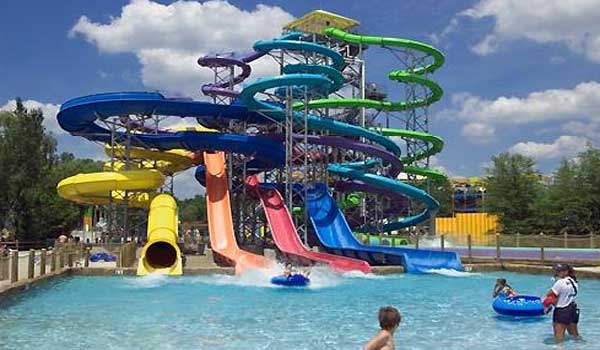 The Essel World Water Kingdom in Mumbai.  India's Largest Water Amusement Park.
Chloramines in Drinking Water
The EPA's webpage on chloramines begins like this:
Chloramines are disinfectants used to treat drinking water. Chloramines are most commonly formed when ammonia is added to chlorine to treat drinking water. The typical purpose of chloramines is to provide longer-lasting water treatment as the water moves through pipes to consumers. This type of disinfection is known as secondary disinfection. Chloramines have been used by water utilities for almost 90 years, and their use is closely regulated. More than one in five Americans uses drinking water treated with chloramines. Water that contains chloramines and meets EPA regulatory standards is safe to use for drinking, cooking, bathing and other household uses.
In spite of the EPA's assurances of safety, the use of chloramine in city water supplies has provoked continual controversy.
Treatment for Chloramines: Removing Chloramines from Water
Reduction of chloramines from city water is a commonly misunderstood issue. For those unfamiliar with the details of water treatment, there is often an expectation that there is a "filter" for every contaminant that specifically identifies that contaminant and, as if by magic, "takes it out." A frequent question is "How much does it take out?" It isn't quite as simple as that, especially with "problem contaminants" like chloramines.
Here is an excerpt from technical writer David Bauman. This is from a Water Technology article on chloramines. By way of explanation, the "catalytic carbon" Mr. Bauman refers to is commonly known by its most common brand name, Centaur carbon. Other brands of catalytics are now on the market, however.
Removal possibilities Chloramines should not be confused with chlorine. Chloramines  cannot be removed by passing water through the same activated carbon filters used for chlorine removal because these filters are too small at their designed flow rates.
The following are four types of water treatment technologies that can be used to remove chloramines at the point of use:
Catalytic Carbon. This has a surface structure that has been altered from standard activated carbon, enabling it to remove chloramines, providing close attention is given to contact time, mesh size of the carbon and influent temperature. Theoretically, the carbon decomposes chloramine into traces of nitrogen gas, ammonia gas and chloride. If these reactions are not allowed to be completed, surface oxygen groups form that can foul or exhaust the carbon.
With a 2-mg/L chloramine influent level, enhanced catalytic carbon can produce product water that maintains a <0.1-mg/L residual (required for dialysis). Manufacturer's data on this type of carbon refer to flow rates ranging from 30 seconds to two minutes of empty bed contact time (EBCT). This converts to between about 3.5 gallons per minute per cubic feet (gpm/ft3) and 15 gpm/ft3.
This does not mean that 15 gpm/ft3 is acceptable. For example, although the product water may be acceptable at this rate, the pressure loss may be prohibitive and the length of run before chloramine breakthrough may be reduced from 88,000 gallons to 11,000 gallons. Designers of dialysis water treatment systems use 10 minutes of EBCT. This contact time was established prior to the development of catalytic carbon, but because of the specifications required by the US Food and Drug Administration, which regulates dialysis water treatment equipment as medical devices, in most cases this has not changed. According to catalytic carbon data, this time could be reduced to about three minutes.
Decreasing the mesh size of the carbon can more than double the gallon throughput, although it may also create more pressure loss. An increase in temperature from about 58 degrees F to 72 F also can more than double the gallon throughput.
The word catalytic normally means enabling a reaction without entering into the reaction. This would imply that the catalyst would never change or become depleted. In reality this is probably not true; other adsorbable and ionic species in the water adsorb onto the carbon and eventually mask the catalytic sites. The more catalytic sites there are on the carbon, the longer its useful life.
In addition, friction physically depletes the material; other foulants, such as iron, can foul it; and high pressure differential can crush it.
Standard activated carbon.Used for chloramine removal long before catalytic carbon became available, standard activated carbon requires a very long contact time, which means a large volume of carbon is needed.
Everything attributed to catalytic carbon applies to standard carbon, although to a lesser degree. All activated carbon has some catalytic capability, but standard carbons of all common basic materials have a relatively low activity for chloramine removal. For thorough removal, up to four times the contact time of catalytic carbon may be required. Substantial increases in percent removal and length of run before chloramine breakthrough can be achieved with smaller mesh carbon. Some systems have been designed that precondition the carbon by exposure to general use or to chlorine.

Carbon cartridge filters have been tested for chloramine removal, but since no national testing standard has been established, no claims are being made. Some cartridges have a real advantage: Fine or powdered carbons, such as those used in cartridges, are excellent chloramine removal media in spite of not being made from catalytic material.
They can render the discussions regarding catalytic vs. standard carbon moot.
Ascorbic acid. Used for dialysis before the development of catalytic carbon, this acid acted – as would other reducing agents – by reducing monochloramine to chloride and ammonia. However, this acid is not advised for drinking water applications and is no longer used for dialysis treatment.
The practical realities one is left with from Mr. Bauman's excellent summation of removal strategies are that
1. Except in a controlled industrial setting, it is next to impossible to predict the lifespan or the exact reduction percentage of a water filter used for chloramines.
2. Such variables as water temperature, flow rate, mesh size of the medium (in the case of carbon), and other contaminants in the water greatly affect the effectiveness and the longevity of the filter.
3. The often-used blanket statement that "reverse osmosis does not remove chloramines" is technically true but realistically false. While the reverse osmosis membrane itself does not remove chloramines, every respectable RO unit is equipped with two or more high quality carbon filters. Pre-filters, the filters that process the water before the membrane, receive water at a very slow rate of flow and therefore work under excellent conditions for chloramine reduction. The use of the high quality cartridges described by Mr. Bauman actually should provide superb chloramine reduction in an undersink RO unit, yet the "reverse osmosis does not remove chloramines" myth is perpetuated by sellers of non-RO products.
4. If you are thinking of purchasing a "whole house" chloramine filter, your choice in sizing should be made considering the life expextancy of the carbon. Mr. Bauman's figures show that the carbon's lifespan could be reduced to as little as 1/8 by undersizing.
Catalytic Carbon and Chloramine
Filter carbon is often classified according to a system of rating scales that describe its properties. One of these scales is called the "Peroxide Number," which is used to measure carbon's ability to promote catalytic reactions. The peroxide number is actually a time measurement in minutes of the time that is required by a carbon to decompose hydrogen peroxide. The lower the peroxide number, the greater the carbon's ability to decompose hydrogen peroxide and consequently to perform catalytic activities. The lower the peroxide number, the higher the catalytic activity.
Here are typical peroxide numbers for various carbons:
Catalytic Bituminous Coal-Based – 10
Conventional Bituminous Coal-Based – 40
Subbituminous Coal-Based – 40
Lignite Coal-Based – 60
Wood-Based – >120
Coconut-Based – >120
Figures from Hayden and Spotts, "Fundamentals of Catalytic Activated Carbons,"Water Technology Magazine.
References from other websites: A look at a top notch catalytic carbon filter.Removing ammonia from aquarium water (with a technique that can be applied to undersink reverse osmosis for drinking water as well).
The Number of Nights Before Christmas that 'Twas: 1
by  Bee Sharper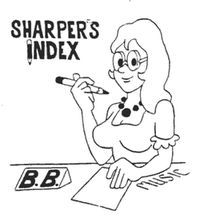 Editor's Note:  Pure Water Gazette numerical wizard  Bea Sharper writes only in the Harper' s Index number format style.  This makes fiction difficult, but you'll see that she carries it off well in the piece below. Since the "The Number of Nights Before Christmas that 'Twas,"  has become a Christmas classic, right up there on the list with A Christmas Carol and It's A Wonderful Life, here it is again.  — Hardly Waite.
Number of nights before Christmas that 'twas: 1
Number of creatures, including mice, that were stirring: 0.
Stockings that were hung by the chimney with care: 16
Approximate number of visions of sugar plums dancing in Timmy's head: 43.
Time when Timmy settled down for his long winter's nap: 10:30.
Number of clatters that arose on the lawn: 1.
Total number of miniature sleighs seen by Timmy when he tore open the shutters and threw up the sash: 1.
Number of tiny reindeer that were pulling the sleigh: 8.
Exact number of little old lively and quick sleigh drivers seen by Timmy: 1
Number of little round bellies the lively and quick sleigh driver with a nose like a cherry had: 1.
Total number of toys he had in his bundle when he came down Timmy's chimney: 176.
Number of stairs Timmy quietly crept down in order to watch Jolly Old St. Nick go about his work: 14.
Number of times you'll have to click on this link to find out what happened next: 1.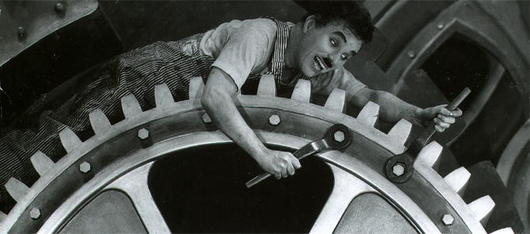 Please visit our RO Parts Page for tanks and accessories.  We also have dedicated parts pages for countertop water filters, undersink filters, and aeration equipment.  We stock parts for everything we sell.
Thank you for reading.  Please come back next week.
Places to Visit on Our Websites in the meantime.
Garden Hose Filters.  Don't be the last on your block to own one.
Model 77: "The World's Greatest $77 Water Filter"
"Sprite Shower Filters: You'll Sing Better!"
An Alphabetical Index to Water Treatment Products
Our famous whole house Chloramine Catcher
Pure Water Occasional Archive: Sept. 2009-April 2013.
Pure Water Occasional Archive: April 2013 to present.
Write to the Gazette or the Occasional:   pwp@purewaterproducts.com
Please Visit
The Pure Water Gazette – now now with an up-to-the-minute feed of the latest water news.