In this early August Occasional, you'll hear about an eerie place called Plastisphere, the "daylighting" of the Saw Mill River, England's ten biggest river and beach polluters, bacteria that live on plastic, and a water contaminant that can eat through glass. Find out how Christmas is like Garden Hose Day, how much water Lawton, Oklahoma loses to evaporation, and how UV is used to treat chloramines. Learn why the Colorado is a "tidal" river, which is "America's least sustainable city," and where to look for the Eastern Garbage Patch.   You'll meet spunky Billy Mitchell, get marketing tips from Esperanza Lopez and Katey Shannon, and find out why Amy Russell got the coveted Pure Water Gazette Hero Award.  There are hose blasts, hose pulls,  hose bibs, hose-inspired sex toys,  and much other Garden Hose Day lore.   And, as always, there is much, much more.
The Pure Water Occasional is a weekly email magazine produced by Pure Water Products of Denton, Texas. We also serve up the Pure Water Gazette, which offers new articles about water and water treatment daily,  providing "vast piles of information in the Gazette's tangy, irreverent style" (Texas Weekly).  We sincerely invite you to visit PureWaterProducts.com,  a commercial website that is packed with water treatment information.
If you would like to read this issue on the Pure Water Gazette's website,  please go here.
While you were placing your bet on the Garden Hose Pull and chuckling about the Hose Blast competition, a lot of interesting things happened in the ever-changing world of water.  Read on to hear about some of them.
New From the Pure Water Gazette: 
National Garden Hose Day, celebrated around the nation on August 3, was, of course the big news.  The Pure Water Gazette covered it in detail:
Happy Garden Hose Day
If you were unaware that August 3  is National Garden Hose Day you must live under a rock.   The phenomenal rise in popularity of Garden Hose Day is nothing short of amazing, and many experts in holiday marketing believe that National Garden Hose Day will soon rival not just the lesser national holidays like President's Day, but it may soon eclipse traditional favorites like Father's Day and Labor Day.
This year's Garden Hose Day was enthusiastically celebrated in most American cities–from as far south as Brownsville to as far north as Wasilla.  As was the case in 2012, Minneapolis was the unchallenged center of Garden Hose Day activities, with public offices and major businesses closing Monday to allow Twin Cities residents a full three-day weekend for the celebration.
Minneapolis and St. Paul square off each August 3 in the traditional Garden Hose Pull event.  The rivalry is intense and the competition brutal. Minneapolis leads the series by two wins, but St. Paul is a slight favorite in this year's event  because of the acquisition of All Star puller Paul Browning from the Cleveland Pack Mules.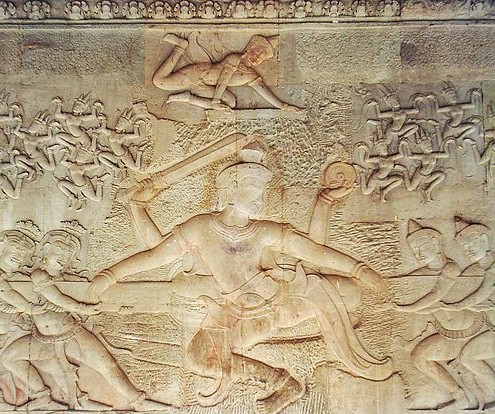 This bas relief rendering of a garden hose pull from antiquity demonstrates that hoses were in use much earlier than previously believed.  The thick, primitive hose used in this event was quite unlike the sleek but extremely strong hoses used in today's competition.  Official garden hose pulls actually use specially manufactured hoses that are much stronger than conventional garden variety hoses. The stronger hoses were developed for safety after a St. Paul point puller lost an eye when a tightly stretched hose popped during the 2010 competition.
A new competition that emerged in several cities during this year's Garden Hose festivities was the Hose Blast. In this event, the player attempts to catch a burst of water from a fire hose in his mouth and squirt it back into the face of the friendly fireman.  The event's future is uncertain, since several injuries were reported this year, including a number of loose teeth.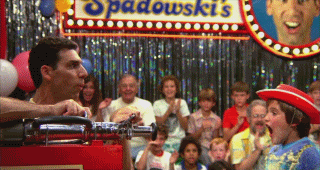 Billy Meredith of Des Moines, Iowa was unable to withstand the jet of water dealt him by fireman Bob Withers in the Hose Blast event held at the Des Moines Civic Center. Although Billy was a favorite with the crowd, he did not qualify for the main competition. 
A Bright Future for Garden Hose Day
According to Esperanza Lopez,   research analyst for the National Federation of Merchant Associations,  holidays sink or swim according to their commercial appeal.  Holidays don't get popular by accident.  Mother's Day was a flop, Lopez points out,  until florists caught on that promoting it was an extremely successful way to sell flowers.
Lopez explains that for a holiday to really take off, it needs two things: commercial appeal and a nostalgic hook. Groundhogs are cute, but Groundhog Day comes in only slightly above zero as a national holiday because you can only sell so many stuffed groundhog toys and nobody has any happy childhood memories about groundhogs. Christmas, to the contrary, is the perfect holiday because the "good will toward men" theme is so generalized that almost any product can be associated with it.  Hard as it is to believe, people even give their loved ones guns for Christmas. And as for nostalgia, even a second-rate marketer can whip people into a buying frenzy by evoking happy white Christmas of childhood.  Even people who grew up on the Arizona desert remember the blissful white Christmases of their youth when Bing starts to sing.
Garden Hose Day has wide product association plus an easy nostalgic appeal.  Almost everyone has memories of  happy days of summer that involved hose spraying and lawn sprinklers and plastic wading pools filled with cool water from the garden hose.
As for the commercial side,  Esperanza Lopez points out that there are an exceptional number of products that relate to the garden hose.  In addition to the almost limitless array of decorative hoses, there are special nozzles, colorful hose bibs, manual and electrically-powered hose dispenser/retractors,  hose splitters, hose repair kits, hose unions, hose protectors, and more.  Related items include lawn equipment, car wash paraphernalia,  clothing,  books about gardening, patio cooking, landscaping and washing cars, patio furniture, lawn sprinklers,  gardening tools–the list is endless. Yes, even x-rated products that include sex toys and clothing with suggestive phallic mottoes and pictures were on the market this year.
One of the more serious products that has benefited from the popularity of Garden Hose Day is the garden hose filter. According to manager Katey Shannon of Pure Water Products,  a leading seller of garden hose filters, "We sell garden hose filters year around, but sales really take off in the month before Garden Hose Day."  Shannon points out that garden hose filters enhance the hosing experience, whether you drink water from a garden hose, spray water on your lawn or vegetable garden, wash your car, or fill your horse's water trough. "Whatever you do with a garden hose," Shannon says, "you will enjoy it more if your water is filtered."
So live it up on Garden Hose Day.  August, the hottest month and the last month of summer vacation, needs a great holiday.  Let's face it.  No one wants to celebrate the day we bombed Hiroshima and no one wants to buy gifts to commemorate LBJ's Birthday.  Garden Hose Day!  A holiday America can be proud of.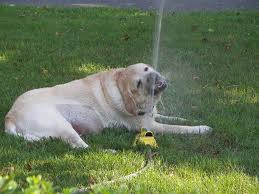 For the Dog Days of Summer, there's nothing like a garden hose to make you happy. 
Tides, Energy, and the Colorado River
by Elizabeth Cutright
Gazette's Introductory Note:  John Muir, founder of the Sierra Club, said that if you tug on one thing in nature you find it attached to the rest of the world.  With that in mind, it makes perfect sense that when a man in an apartment in Phoenix, AZ turns on his air conditioner,   flow in the Colorado River increases.  This will make sense after you read Elizabeth Cutright's article.

In a lyrical piece written for The Nation, author William deBuys (A Great Aridness: Climate Change and the Future of the American Southwest) describes his time spent rafting down the Colorado River. As he details the changing landscape and the effects climate change and demand management (or mismanagement) have on this interstate tributary, deBuys also manages to address one of the most pressing issues facing water resource management today: the water-energy nexus.
The Colorado is "a tidal river" explains deBuys, going on to note, "these days, the tides of the Colorado are not lunar but Phoenician." As demand rises from Phoenix, AZ, water levels dip and ebb in response.
"On this April night, when the air conditioners in America's least sustainable city merely hum, Glen Canyon Dam, immediately upstream from the canyon, will run about 6,500 cubic feet of water through its turbines every second," writes deBuys. He goes on to illustrate the interdependent relationship between the city's energy needs and its water resources: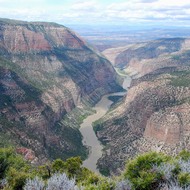 "Tomorrow, as the sun begins its daily broiling of Phoenix, Scottsdale, Mesa, Tempe, and the rest of central Arizona, the engineers at Glen Canyon will crank the dam's maw wider until it sucks down 11,000 cubic feet per second (cfs). That boost in flow will enable its hydroelectric generators to deliver 'peaking power' to several million air conditioners and cooling plants in Phoenix's Valley of the Sun. And the flow of the river will therefore nearly double."
Of course, as the heat intensifies in that urban oasis, Phoenix residents will crank up the AC with little thought to effects those watts will have on the Southwest's water resources.
For deBuys, the connections are clear and significant.
"By mid-summer, temperatures in Phoenix will routinely soar above 110 degrees Fahrenheit, and power demands will rise to monstrous heights, day and night. The dam will respond: 10,000 cfs will gush through the generators by the light of the moon, 18,000 while an implacable sun rules the sky. Such are the cycles—driven by heat, comfort, and human necessity—of the river at the bottom of the continent's grandest canyon."
Despite the drastic and significant effects of the energy and water needs of some of the region's largest cities, few laymen ever make the connection.
"The subsequent story of the West can indeed be read as an unending duel between society's thirst and the dryness of the land, but in downtown Phoenix, Las Vegas, or Los Angeles, you'd hardly know it," writes deBuys.
In truth, the impact of this use (who some would undoubtedly label misuse or perhaps even abuse) of the Colorado has tendrils that stretch far and wide beyond green lawns in a desert-scape, or nonstop air conditioning during the hottest part of the day. As deBuys details, harnessing the power of one of "the West's great waterways," results in:
* Water for 40 million people
* Irrigation for 5.5 million acres of farmland
* The gradual (and perhaps irreparable) erosion of natural beaches and sandbars as a result of the hydroelectric tides
* Changing water temperatures—resulting from dam releases—aid nonnative species (like trout) to the detriment of indigenous populations of fish—some on the verge of extinction (and many protected under the Endangered Species Act).
The entire article is worth reading, as deBuys goes over the finer points of water rights, court decrees, and the eternal rain dance between supply, demand, and conservation.
One question deBuys asks at the beginning of his essay stuck with me to the end, "The crucial question for Phoenix, for the Colorado, and for the greater part of the American West is this: How long will the water hold out?"
Source: Water Efficiency.
Also new in the Pure Water Gazette:
How Much Water Evaporates from Lakes?
Water evaporates from lakes and rivers, but most of us don't realize how much surface water goes back to the atmosphere or what factors influence the amount.  This piece, adapted from a Lawton, Oklahoma newspaper, answers some of these questions.
The Gazette gives its coveted Hero Award to Amy Russell who walked 500o miles for a good cause.  This article gives an interesting account of her walk across Africa.
Treating Chloramine with Ultraviolet
This short article from  UVSciences.com gives a very general view of some alternative uses of ultraviolet in water treatment. UV is widely accepted as a method of water disinfection, but it is not so widely known as a treatment for TOC  (Total Organic Carbon) and the reduction of chlorine and chloramine. The article does not explain that these special uses require special equipment and the regular 254 nanometer low pressure lamps that are used for destruction of bacteria and viruses cannot simply be applied to the treatment of  TOC or chlorine/chloramine.  Each of these requires specific wave lengths and chloramine reduction is done with a medium pressure lamp.  At present chloramine reduction with UV is mainly used for swimming pools, but other applications are being developed.
Fluoride May Prevent Cavities, but it also causes 1800 new cancers per year
Undiluted  fluorsilicic acid can eat through glass. When added to tap water it leaches lead out of water pipes. It adds both lead and arsenic to water. Using it causes an estimated 1800 cancers per year.  Not putting it into drinking water supplies would reduce arsenic in municipal drinking water by 99 percent. But we will likely keep adding it because selling a manufacturing by-product is very profitable for the phosphate fertilizer industry.  This will be a tough decision for the EPA.
Water News from Around the World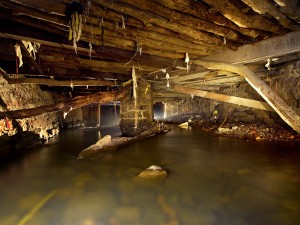 The Saw Mill River, Underground, before being "daylighted."
The Saw Mill River in Yonkers, New York, is being exposed to fresh air after decades of burial. The river is being "daylighted."  That's the term used to describe the uncovering of a buried river. Uncovering buried streams has had huge impacts in places as diverse as Seattle, Washington, Kalamazoo, Michigan, and even Seoul, Korea—improving local water quality,  providing habitat for fish and birds, and turning neglected parking lots and roads into public parks that boost property values and can revitalize entire cities.   Full Story.
Who are the ten biggest polluters of England's rivers and beaches?   England's ten largest water companies, of course. Full Story.
Forced out of their homes near a toxic sinkhole, residents in Louisiana bayous expected help. A year on, they still wait. The hole goes through periodic convulsions, or burps, as methane gas escapes to the surface along with quantities of crude oil. Since appearing,  it has expanded from about three acres to some 22. Read about  giant sinkholes caused by brine mining in Louisiana.  Full Story.
A judge has approved a controversial and complicated water deal between the farmers of California's Imperial Valley and the cities of San Diego County — hailed as the largest sale of water from farms to cities in the nation.  Full Story.
A team of researchers in Woods Hole, Mass., has discovered a novel ecological habitat flourishing in one of the fastest growing segments of civilization's toxic waste stream: plastic marine debris. Plastisphere, as they call it, is a "biological wilderness on microbial reefs of polyethylene and polypropylene in the open ocean teeming with single-celled animals, fungi and bacteria, many of them newly discovered. Some may be pathogens hitching rides on floating junk." Little is known about the effects of these diverse, relatively new and evolving microbial communities on the surrounding marine environment.  What is known is that there is plenty of plastic for the plastic dwellers to live on.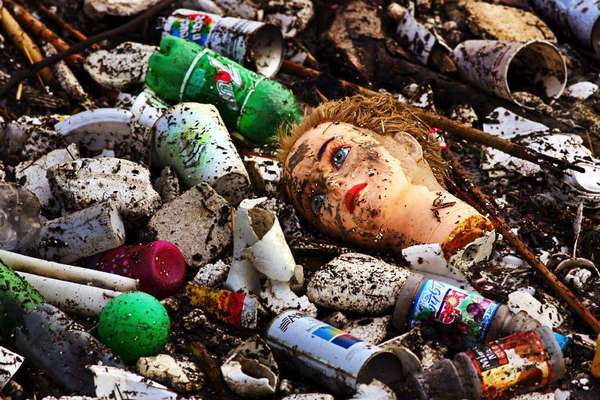 An estimated 46,000 pieces of plastic trash float in every square mile of ocean. The waste gathers in vast "garbage patches" in ocean gyres –cyclonic dead spots formed by currents and winds. The Eastern Garbage Patch, midway between Hawaii and California, is roughly twice the size of Texas.  The picture above is not from the Eastern Garbage Patch.  It's still in Los Angeles, on its way to the ocean.   Full Story.