---
Posted
November 4th, 2013
The Pure Water Occasional for November 4, 2013
With attention gripping information about the inevitable increase of nitrates in our drinking water supplies,  the continuing negligence of the US military in regard to groundwater,   the growing concern over microplastics in lakes, the makeup of "fiberglass" tanks used for large filters and softeners, the continuing evolution of the water treatment "dealership,"  plus highlights of water news of the past week.    And, as always, there is much, much more.
State, Kirtland begin fuel spill cleanup test
By Jeri Clausing
The US Military Strikes Again:  Giant Fuel Leak Threatens New Mexico Groundwater
Gazette Note:  If you follow water pollution events in the news, you won't be surprised at yet another giant piece of negligence from the US military.  "Supporting our Troops" should not include giving the military a free pass to dump fuels and chemicals at will.  Military officials should be held to the same standards and subject to the same disciplinary actions as civilian polluters.  — Hardly Waite.
ALBUQUERQUE, N.M. (AP) — State environment and Kirtland Air Force Base officials are pumping 70,000 gallons of contaminated water from the aquifer that feeds new Mexico's largest city, an attempt to clean up a huge, underground jet fuel spill.
The fuel came from what officials believe was a 40-year leak from underground pipes at a Kirtland aircraft fuel loading facility. It was discovered in 1999, and officials are still trying to figure out how to clean it up before it hits city water wells.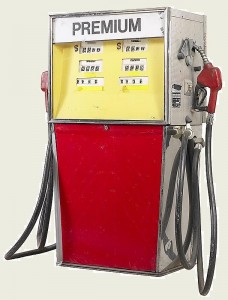 Officials began pumping water from the aquifer on Wednesday and filtering it in mobile tanks. The test will determine if this is a viable method for cleaning up the spill and see what happens to the aquifer when a large amount of water is removed.
The goal is to pump more than 1 million gallons before the end of November.
Filtered water from the test will be used on the base, probably to water grounds. But officials say they are unsure what they will do if the system proves viable and large amounts of water are pumped from the aquifer. One potential option is to use it to recharge the aquifer.
The spill has been estimated as large as 24 million gallons, or twice the size of the Exxon Valdez oil spill.
The plume has moved to within 4,000 feet of one city well, prompting the state earlier this year to order more aggressive action by the Air Force to try to get the toxins out of the aquifer.
Environment Secretary Ryan Flynn emphasized that Wednesday's test was very preliminary, but said the cleanup is the department's No. 1 priority.
"We simply cannot allow this spill to contaminate Albuquerque's water," he said, noting the effort has just begun. "We will continue to push the Air Force to move at a more aggressive pace."
Kirtland Air Force Base Installation Commander Col. Tom Miller called it a complex issue but said the Air Force is fully committed to resolving it.
Source: SFGate.
Pure Water Gazette Fair Use Statement
 Study:  Nitrogen Remains in Soils
 Gazette Note:  This important study demonstrates the long-term implications of our excessive use of nitrogen fertilizers.  Nitrate contamination of drinking water is a serious issue, and the study shows that what we do now is polluting the drinking water of future generations. –Hardly Waite.
Nitrogen fertilizer applied to crops lingers in the soil and leaks out as nitrate towards groundwater much longer than previously thought, scientists in France and at the University of Calgary discovered in a new study.
Thirty years after synthetic nitrogen fertilizer had been applied to crops in 1982, about 15 per cent of the fertilizer nitrogen still remained in soil 
organic matter, the scientists found.
After three decades, approximately 10 per cent of the fertilizer nitrogen had seeped through the soil towards the groundwater and will continue to leak in low amounts for at least another 50 years.
Nitrate is one of the most common groundwater contaminants in rural areas. It is regulated in drinking water primarily because excess levels can cause methaemoglobinemia, or "blue baby syndrome," which decreases the ability of blood to carry oxygen around the body.
The study was led by researcher Mathieu Sebilo at the Universite Pierre et Marie Currie in Paris, France, and by Bernhard Mayer in the University of Calgary's Department of Geoscience, and included several research organizations in France.
Their paper, "Long-term fate of nitrate fertilizer in agricultural soils," was published recently in the Proceedings of the National Academy of Science of the United States of America.
The findings show that losses of fertilizer nitrogen towards the groundwater occur at low rates but over many decades, says Mayer, professor of geochemistry and head of the Applied Geochemistry Group.
That means it could take longer than previously thought to reduce nitrate contamination in groundwater, including in aquifers that supply drinking water in North America and elsewhere, he says.
"There's a lot of fertilizer nitrogen that has accumulated in agricultural soils over the last few decades which will continue to leak as nitrate towards groundwater," Mayer says.
Canada and the U.S. regulate the amount of nitrate allowed in drinking water. In the 1980s, surveys by the U.S. Environmental Protection Agency and the U.S. Geological Survey showed that nitrate contamination had probably impacted more public and domestic water supply wells in the U.S. than any other contaminant.
Mayer is an internationally recognized expert in the use of stable isotopes to track contaminants in the environment.
The French-University of Calgary study is the first that tracks, using stable isotope "fingerprinting," the fate of fertilizer nitrogen remaining in a soil zone over several decades. The research team used a stable isotope of nitrogen, N-15, as a tracer to track fertilizer nitrogen applied in 1982 to sugar beet and winter wheat crops on a pair of two-metre-square plots at a site in France.
Over the 30-year study, the researchers measured the amount of N-15 labeled fertilizer nitrogen taken up by plants and they quantified the amount of fertilizer nitrogen remaining in the soil.
The novel aspect of their study was that they subsequently determined the long-term fate of this fertilizer nitrogen 'pool' retained in the soil. Their measurements of seepage water from locations two metres deep in the soil revealed the amount of fertilizer nitrate leaking towards the groundwater.
The team found that 61 to 65 per cent of the N-15 fertilizer applied in 1982 was taken up by the sugar beet and wheat plants over the 30-year study.
However, 32 to 37 per cent of the fertilizer nitrogen remained in the soil organic matter in 1985 or three years after application, while 12 to 15 per cent still lingered in the soils after three decades.
Between eight to 12 per cent of the fertilizer nitrogen applied in 1982 had leaked in the form of nitrate toward groundwater during the 30 years, and will continue to leak at low rates "for at least another five decades, much longer than previously thought," the study says.
The scientists predict that about 15 per cent of the initially applied fertilizer nitrogen will be exported from the soils towards the groundwater over a time span of almost one century after the 1982 fertilizer application.
"If nitrate keeps leaking into the groundwater for decades after fertilizer application, than it will be more difficult to reduce nitrate contamination of groundwaters in a timely fashion," says Mayer.
Mayer speculates that if the same research were done in Alberta, the findings would be similar in terms of fertilizer uptake by plants and nitrogen retention in the soils, although Alberta's comparatively dry climate and different geology might slow the rate of nitrate seeping towards the groundwater.
Source: Stormwater
Great Lakes mayors seek action on 'microplastics'
By John Flesher
TRAVERSE CITY, Mich. (AP) — An organization representing more than 100 cities in the U.S. and Canada asked federal and industry officials Tuesday for action on the recently discovered problem of "microplastic" pollution in the Great Lakes.
Over the past two years, scientists have reported finding thousands of plastic bits — some visible only under a microscope — in the lakes that make up nearly one-fifth of the world's fresh surface water. Large masses of floating plastics also have been detected in the world's oceans.
Scientists believe some are abrasive "microbeads" used in personal care products such as facial and body washes, deodorants and toothpaste. They're so minuscule that they flow through screens at waste treatment plants and wind up in the lakes, where fish and aquatic birds might eat them, mistaking them for fish eggs. They also could absorb toxins.
"Even though you cannot see them, they pose a very real threat to human and wildlife health," said John Dickert, mayor of Racine, Wis., and secretary-treasurer of the Great Lakes and St. Lawrence Cities Initiative.
The group sent letters to the U.S. Environmental Protection Agency and its counterpart, Environment Canada, asking what they plan to do about the problem. David Ullrich, the organization's executive director, acknowledged it could take years to develop a regulatory crackdown on microplastics.
In the meantime, his group is sending letters to 11 companies that use microplastics, asking them to switch to biodegradable alternatives. Some are doing so. Procter & Gamble and Johnson & Johnson have said they'll phase out microbeads, and L'Oreal says it won't develop new products that include them.
"We think it makes more sense to appeal directly to the people involved and say, 'Let's work together and try to solve the problem; let's do the right thing,'" Ullrich said.
Additionally, the group is encouraging mayors in the eight states and two Canadian provinces adjoining the lakes to urge residents to buy products without microbeads. "We're not calling for a boycott, but we're asking citizens to inform themselves," Ullrich said.
Scientists led by chemist Sherri Mason of State University of New York at Fredonia and the 5 Gyres Institute, a nonprofit group based in California, took samples from all five Great Lakes in 2012 and again this year by skimming the surfaces with trawl nets attached to vessels.
In a paper published online by Marine Pollution Bulletin, they reported finding the plastic bits in Lakes Erie, Huron and Superior, with the highest concentrations in Erie. Mason said samples taken this summer from Lakes Michigan and Ontario are still being analyzed, but initial inspections turned up microplastics from both.
Pressuring companies to phase out microplastics quickly in favor of biodegradable abrasives such as grape and apricot seeds is the best way to deal with the problem, Mason said. Because of their size and wide distribution, there's no practical way to remove the particles from the lakes.
"Unfortunately, once they get into the water, they get widely distributed," she said. "You can't just go out and filter all the water."
Source: SFGate.
Pure Water Gazette Fair Use Statement
World Water News of the Week
US EPA finalizes relocation plan for Eighteenmile Creek residents in New York. Five Lockport, N.Y., families living today along Eighteenmile Creek on property contaminated with heavy metals and PCBs will likely be in new homes sometime next year, officials from the U.S. Environmental Protection Agency reported Tuesday.
Mexico evacuates 5,000 for gasoline pipeline leak. A geyser of gasoline spewed into the sky from a state-owned pipeline in western Mexico, forcing officials to evacuate about 5,000 people Wednesday. Authorities blamed the accident on fuel thieves tapping into the pipe.
Manatee deaths break record with two months left to go in year. With two months left in 2013, manatee deaths have already broken the record set three years ago. Boaters are not to blame — in fact, the number of manatee deaths from being hit by boats are down.
Halloween storms flood Texas, on tear across country. Severe thunderstorms delivered a frightening, and in at least one case tragic, Halloween across the nation's midsection Thursday as torrential rains flooded Central Texas, brought threats of tornadoes in several states and knocked down power lines that led to a 9-year-old Tennessee boy's death. The picture above is of a city street in Austin.
Recycled water is the future. The 9th International Water Association (IWA) Conference and Exhibition on water reclamation got underway this week in Windhoek, Namibia with a special focus on sustainable water usage and efficiency.
Haz-mat team mobilized for explosive methane levels in sewers. Explosive levels of methane in sewers earlier this month prompted an evacuation of a restaurant and an ongoing emergency declaration from the Milwaukee Metropolitan Sewerage District, according to newly released documents.
This massive underground complex protects Tokyo from floods. A civil engineering masterpiece protects Tokyo from floods. Its official title is the Metropolitan Area Outer Underground Discharge Channel, and its job is to direct excessive rainfall away from the metro area into underground shafts and eventually into rivers.
Water shortage dries Rio de Janeiro taps. Taps were dry across a wide swath of Rio de Janeiro on Tuesday, some for nearly a week straight, prompting a flurry of criticism of the state water company and forcing some desperate residents of this Olympic city to fill plastic bottles with water from streams. Associated Press.
Queens industrial site to be considered for superfund status. City, state and federal agencies have long known that an industrial site in Ridgewood, Queens, contained radioactive material. The location was once used by a company that sold thorium to the federal government for research on atomic bombs. New York Times. 30 October 2013. [Registration Required]
How much radiation is safe? For decades, government officials and science experts have wrestled with the question: How much radiation from nuclear activities should the public be exposed to and how quickly should officials move to clean up sites that are contaminated?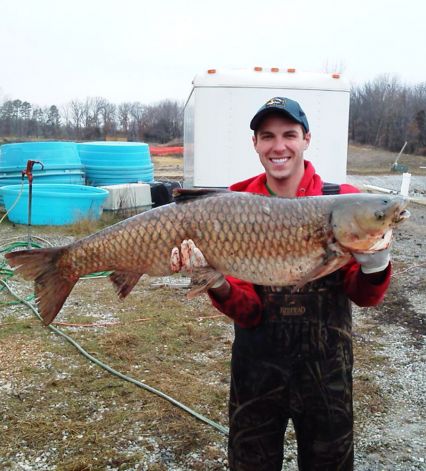 Asian carp reproduce in Great Lakes watershed. Scientists said Monday they have for the first time documented that an Asian carp species has successfully reproduced within the Great Lakes watershed, an ominous development in the struggle to slam the door on the hungry invaders that could threaten native fish.
What Are Fiberglass Mineral Tanks Made Of?
by Pure Water Annie
Good , sincere, heartfelt information from the Occasional's Technical Department.
Editor's Note:  This article is adapted from a longer piece that appeared in the Pure Water Occasional for May 2011. – Hardly Waite.
The water filter pictured below is built with a conventional fiberglass mineral tank. In water treatment, these tanks are used to build virtually all filters and water softeners. They're called "mineral tanks" because the treatment media you put in them, whether it is carbon, Birm, water softener resin,  calcite, or any other granular water treatment medium, is collectively referred to as "mineral."
In the vernacular, the tanks are made of a substance called "fiberglass."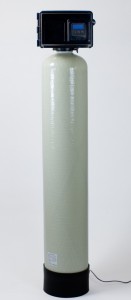 When someone asks what a filter or softener tank is made of,  short answer is simply to say "fiberglass" and be done with it,  although this really isn't true.
According to a leading manufacturer, Structural, what we often refer to as "fiberglass" tanks do in fact have a band of fiberglass reinforcement on the outside. The inner shell of the tank, however, is made of Polyethylene, Polypropylene, PVDF. ECTFE (aka HALAR), FFT. and "around 50 other custom materials."
The tanks have certification by the following agencies: NSF, WQA, and Druckbehalterverordung (German).
So, should you worry about drinking or bathing in water that has been exposed to fifty to sixty plastics? Should the fact that the tank has certification by such prestigious approving agencies as NSF and WQA ease your concerns?
I can't answer that one for you.  Annie can't solve all your problems. The alternative to the sixty plastics is a stainless steel tank that costs ten times as much, does not work as well, and probably has its own set of health issues that haven't been discovered yet. Our experience has been that in spite of popular mythology, stainless tanks are not as "leak-proof" as fiberglass. "Fiberglass" mineral tanks have been around a long time and no one has yet shown that they do any harm. Myself, I'm at home with them. But Pure Water Annie does not know everything.
The Evolution of Water Treatment "Dealerships"– An Infomercial
In May 2013,  half a year ago, Pure Water Products completed its 27th year in business.
We have recently doubled our physical space, added to our staff, and changed over to our newly-acquired main-website address, http://www.purewaterproducts.com. We keep picking up new products and improving our old ones. We continually devote much time and resources to educating our staff. I mention this to illustrate what kind of company we are.
Our fleet of service vehicles, however, remains the same as at the 1986 inception of the company. We have one vehicle–a seldom-washed 1996 Dakota pickup, which replaced our original fleet, a seldom-washed 1982 Dodge pickup.
A few years ago–not so many–water treatment "dealerships," as they usually called themselves, had a business model that started with cold calling and telemarketing to set appointments for sales people who came to your home, usually at night, did some tricky water tests, then stayed and stayed until they wore you down and you signed a 5-year contract to pay many thousands of dollars for a water "conditioner" (i. e. softener),  a "free" reverse osmosis unit and some free soap. When the ink was dry, the seller offered to sell you an expensive service agreement,  then just faded into the sunset.
The internet has done much to destroy that model (though some big companies are still trying to milk it). The internet destroyed it by showing people that a water softener and RO combination could be bought for about 1/6 the price of the "dealership" deal. This was good for everyone but the dealership.
Unfortunately, there is also an easy-money internet model which automates the entire ordering process so that people are seldom involved. Orders are taken by a shopping cart and, at the seller's convenience, the order is"fulfilled" by a third-party shipper. Both the seller and the shipper then fade into the sunset when problems arise. Most offer no parts, no support, and often not even a phone number that works.
Between these two extremes there are innumerable other models. The best "hands on" dealers are often the smaller local businesses that gain some expertise and serve a local constituency well, not at bargain basement internet prices but at reasonable local service prices. These dealers provide valuable service and deserve to be paid for it. If you have dealers of this type in your community, I advise you to treasure them and do business with them.
There are also some really good internet dealers who provide good and honest advice, good service, and fair prices. They also deserve your business. We feel that Pure Water Products fits mainly into this category.
Our business now focuses mainly on internet sales. We started as a single-truck "hands-on" sales and service company and slowly evolved to internet sales, which now provides more than 95% of our total revenue. We still have one truck, however, and we still do enough local business to keep ourselves in touch with service and installation issues and new product performance. We usually try to give ourselves some practical experience through local sales with new products before they go on our websites. Practical experience allows us to eliminate products and parts that don't work well.
What we're trying to get really good at is providing the best products we can at fair prices (not necessarily the cheapest) and at the same time supporting the products fully with parts and technical assistance.
The main point is that we are not parked in an ivory tower waiting for the shopping cart to bring us money. We're in internet sales, but we are mainly in the water treatment business. We belong to trade organizations, go to conventions, take advantage of training provided by trade organizations and our vendors,  and have close support relationships with our suppliers and other water treatment professionals. If you call us for "tech support" on your reverse osmosis unit, you'll probably talk to someone who has built a reverse osmosis unit from scratch. (Our employees build both Black and White and Q Series RO units here in Denton.)
A person who can build a reverse osmosis unit can probably help you fix one on the phone. And our phone support is free, whether you bought the product from us, a local dealer who does not support it, or an unattended shopping cart.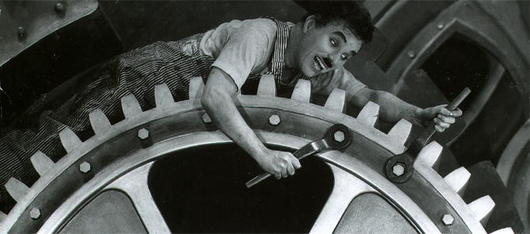 Please visit our RO Parts Page for tanks and accessories.
Thank you for reading.  Please come back next week.
Places to Visit on Our Websites in the meantime
Model 77: "The World's Greatest $77 Water Filter"
"Sprite Shower Filters: You'll Sing Better!"
An Alphabetical Index to Water Treatment Products
Our famous whole house Chloramine Catcher
Pure Water Occasional Archive: Sept. 2009-April 2013.
Write to the Gazette or the Occasional:   pwp@purewaterproducts.com
Please Visit
The Pure Water Gazette – now in an easier to navigate format.